Four hour circuit of downtown (Amsterdam)
Fast pace tourism avoiding the major sites but trying to learn a few lessons in Amsterdam, The Netherlands.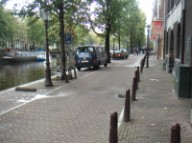 Amsterdam is an amazing city. I could see the suspicion in the eyes of friends and coworkers when I heavily emphasized how much I enjoyed my four hours or so in the city. Generally, men have two reasons to go to Amsterdam alone: pot and prostitution. But I'm a city junkie. This beautiful canal scene was ruined for me when a swarthy (as in weather-beaten) woman with impossibly heavy makeup (she was improbably heavy herself) dressed in lingerie pounded on a basement window to get my attention. I still occasionally have nightmares. Avoid the red light district during the day, or at least don't idly look in windows.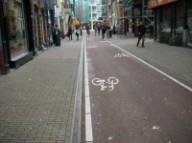 Yes, this road is a bike lane. There are many side roads like this taken over for bike use. There are a few pedestrian-only streets. But as heavy as the pedestrian volumes were, the bicycles were much more voluminous.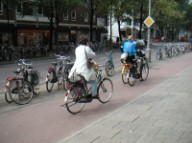 This is right in front of a grocery store. Every bike rack is in use, and there are tons of them. Notice how the racks are at a slight angle to allow for more of them to be included. Look at the bicycle madness! The woman in front is pushing along a second bicycle. In a weird way it's like the excess of an SUV in the US or something. Many bicycles had two people (mother with baby, boyfriend with girlfriend, father with toddler, etc), but here she is one person with two bicycles. The other woman is on her mobile phone while she bikes.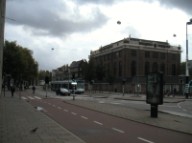 Here we have an arterial street. I crossed and walked along many streets like this in my circuit of Amsterdam. Basically the hierarchy of streets is: (a) ped only, (b) sidewalk with bike lane (c) previous with one way traffic, (d) previous with two way traffic, (e) previous with tram. Almost every road has bike lanes. Any street wide enough has trams. Because bicycle traffic is much heavier than car traffic, pedestrians need to be much more careful stepping off the sidewalk curb than when they enter the center roadway. Luckily almost all arterials have medians where you can stop between lanes. And the bike lanes have stop lights, too.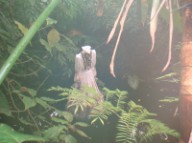 I stopped by a Botanical Garden. It sounded like a great idea, but when I got there I realized it was fall and everything would be dead or dying. No flowers. Luckily they put on a great integrated art exhibition during the off-season. This photo is in the tropical rainforest building. The artist has suspended a white dress over a small pond. In the thick mist - complimented well by my lens fogging over here - the dress looked like a restless spirit back to haunt the living. The other art pieces were incredibly creepy as well, definitely worth the cost of admission.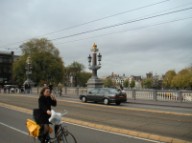 An arterial bridge, tram in the middle.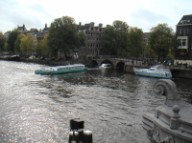 The canals are really just as romantic as you'd think. Even in a light rain on a gray fall afternoon.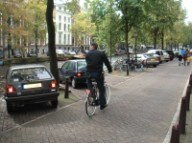 Even the police ride bikes! Let me rephrase that.. Even the police ride quirky leisure bikes! In Seattle, most people own a mountain bike or endurance road bike - including the police. In Amsterdam they apparently ride whatever's comfortable and available. His partner's bike was too small for him, so he had the bike seat jacked all the way up. If it wasn't for the cuffs and pistol, you might not even notice that they're cops.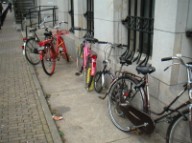 Look at these adorable bikes! I wonder if the pink one belongs to a cop too...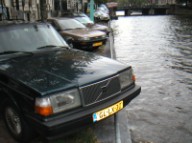 Cars are crammed into what space can be found for them. Small cars abound, nothing bigger than a minivan. I wish they would stop the oil-laden run-off from entering the canals, but I guess they're probably horribly polluted in any case.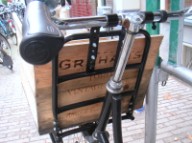 This must be the height of urbanity - using a wood wine case as a basket on the front of your bicycle!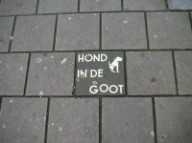 Yes, there were lots of dogs. Yes, there appears to be a problem with people not scooping their poopy, or in Dutch "gooting their hond". Surprisingly there was more of a problem than in Paris. Seattle is beginning to see parks and planting strips fill with dog poo as the dog population continues to grow faster than child population (who would throw or eat the poo), so I can't really talk crap about other cities.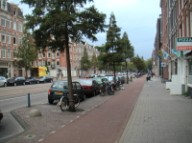 I took this photo because I liked the feel of the street. I thought it was the streetcar tracks and parking strips and ever-present bike lanes and bikes locked to trees that impressed me. When I got home and looked at the picture I was shocked to notice that they have conifers as street trees. I don't know if I've ever seen that. It seems as strange to me as when I saw the palm trees in San Diego. I kind of like it!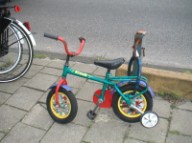 I just want to punch myself every time I see this photo. It is so darned cute! I had to risk my life by standing in a bike lane to take the photo, but it's worth it.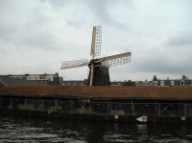 The last operating saw mill in Amsterdam. Apparently it is having problems because of reducing wind volumes with all of the tall buildings. A new housing development is going in just to the right, hopefully the windmill stays open.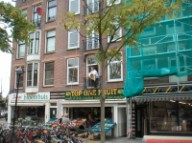 An older gentleman tries to muscle a carpet roll into a second-floor window. His friends chatted and occasionally voiced words of support while holding the rope. Eventually one went up to help him. I couldn't help but laugh. Also notice the cluster of bikes outside the fruit stand. Most probably belong to the apartments upstairs in these three buildings. After I saw these guys, I started seeing the pullies and bars built into the roof of almost every residence. Loading through windows must be the norm.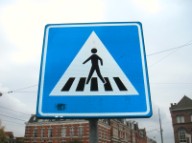 Obligatory foreign crosswalk sign photo.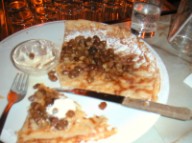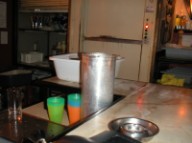 I had a short list of required activities in Amsterdam. One of them was to eat a pannekoeken (the others were to eat croquet and buy delph). You could call it a Dutch Pancake (which most people do), but that doesn't do it justice. It's closer to a crepe than a pancake in presentation. I chose to sit at the bar at the pannekoeken restaurant I randomly entered. What a great choice! That light in the back is on a dumb waiter. At first I thought it was a dish washer, because they were putting dirty dishes in. When I saw them open it and pull out food, it was obviously a dumb waiter.
One thing that seemed out of place was the stack of cheap plastic cups. This was a nice place, they gave me my gin and tonic separately so that I could mix it myself and all. So what's with the cups? When I ordered my pannekoeken it all made sense. The bartender wrote down my order on a piece of paper, stuck the paper quickly into the dish washing basin to get it wet, and slapped that on the inside of the cup. Then she dropped the cup down the aluminum tube, which I thought was some sort of vent! Later I saw them talking down the tube and listening for a response. I asked if that was common in Amsterdam, and she replied that although it's common to have kitchens downstairs because of small building floor space, this is the only place she knows of with this tube setup.. When I showed this to a friend, he told me they use similar systems on ships to communicate above and below deck. With Amsterdam's merchant marine past, I guess the guy who built this restaurant space originally must have just employed a familiar solution.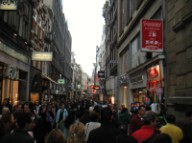 Kalverstraat, pedestrian-only shopping arcade lined with brand-name retailers. What respectable European city doesn't have one of these? What American cities do have one of these (yes, this is a test!)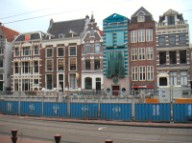 Everyone who grew up on Sesame Street, sing along with me, "One of these things is not like the other, one of these things just doesn't belong!" That Darth Vader building is pretty impressive, though!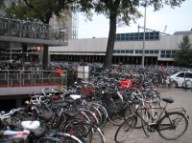 The scene of bikes outside of the Central Station reminded me of a suburban stop in Tokyo.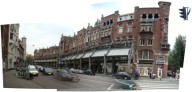 Panorama of the Nadia Hotel near the station. The building is actually straight, the panorama effect gives it that fish-eye look. However, buildings across the city are NOT straight. First you feel a sense of vertigo. Then as you look more carefully you notice that each building leans at a slightly different angle. I wonder if people have jimmies under their table legs to keep their soup level.

And finally, an insane intersection. Trams go straight through and T into a connecting street. Cars and bikes and peds flow around all ways. And there aren't even signs to control traffic. Whoever gets there first goes first. An understood pecking order prevails if everyone arrives at the same moment. There are nominal warning signs of crosswalks and bikes. I've read that these are the latest fad in The Netherlands, and growing in number. Tough traffic issue to solve? Just let the users sort it out, because you can't study your way to the perfect solution.