Walk to Work 2 (San Diego)
Subtitle: San Diego Adventure
I planned my flights and realized I had 3 hours to kill in San Diego before needing to be at work. I started digging around the Internet and asking friends for advice.
After a bit I realized just how close San Diego's airport is to downtown, and my destination in Uptown. I certainly couldn't have walked from the airport to downtown in any other city I've visited - this might be my only chance!
More browsing revealed a set of interesting pedestrian bridges in Uptown, a few art projects, and a lot of chatter about it being a great walkable neighborhood. This would definitely be an opportunity for an interesting walk to work!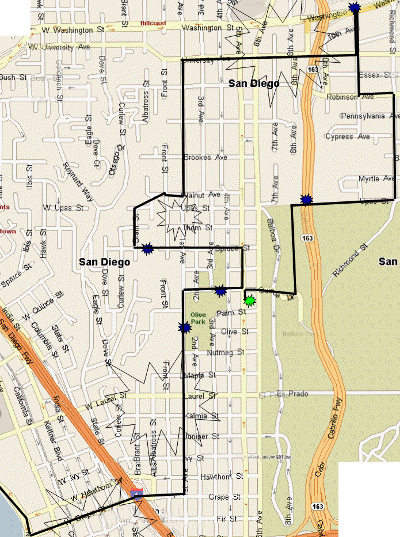 Here was my basic route:
Exit passenger terminal and head east on N Harbor Drive
Turn left on Grape
Turn left on 1st
First Avenue Bridge
Turn right on Quince
Pedestrian bridge
Turn left on 5th
Turn left on Spruce
Suspension pedestrian bridge
Turn right on Brant Street
Turn left on 1st from Walnut
Turn right on University
Left on Vermont
Vermont bridge
Return south on Vermont
Left on Robinson
Right on Richmond
Right on Upas
Nature trail
Upas Bridge
Climb hillside to Quince
Left on 5th
Extraordinary Desserts