I-5 rework letter (Seattle)
Unpublished letter to the Times about their recent article and editorial. A similar letter was sent in response to the PI's transportation column.
This is part of the special feature Freeway Box, showcasing my old life next to freeway viaducts.

Short version I thought the Times would print:
I-5's capacity and maintenance problems are serious issues downtown. However, you should consider its impact beyond the guard rails too.
Despite the often-repeated 'two lanes' claim, the convention center underpass is 11 lanes deep and wide. Three blocks south of the convention center, it is 16 with ramps. How much downtown property and associated livability and tax revenue does Seattle have to sacrifice to the 'greater good?'
All up the corridor, properties lay bare, house homeless, or are marginally used as parking. Where apartments and offices border it, people put up with noise, bad air, and heat plumes. Walking across or under the freeway is a common, inhospitable task downtown.
Lynnwood and Redmond residents, among others, have come to enjoy sound walls. I-405 expansion even has a 'beautification committee' to make commutes more relaxing. When I-5 and 99 are reworked, Seattle must receive mitigation in the form of walls, vegetation, murals, lids and tunnels.
Sorry to everyone who will lose their short views from vaulted freeways. Take the bus and come see our great free public views from Key Tower, City Hall, Myrtle Edwards Park, and Kobe Terrace Park among others.
Long version sent to journalists:
Thank you for your article ("Sections of I-5 in area need replacing") and your editorial staff's opinion ("Merge Left") regarding the problems facing I-5. Although you've accurately captured the maintenance and capacity problems of the freeway, you overlooked its impact on downtown and those who live nearby it.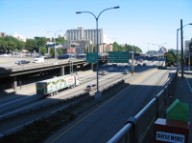 First off, I've attached a photo taken on 6th Avenue just south of Madison. Some of your readers in Spokane might get confused by the statement that I-5 is 'only two through-lanes.' I'm not trying to say there's no traffic problems, and although I don't drive it daily I'm sure it's frustrating. However at this point just a few hundred yards south of the choke point, there are at least 15 lanes of freeway and off and on ramps.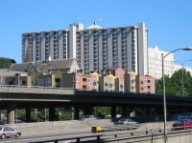 Those lanes have a real impact. Look in the background of the photo, you'll see a mix of apartment buildings and parking lots. It's interesting how the apartments are such a mix of ages. As if every 20 years a developer got over-optimistic and built on a parcel near the freeway. Despite proximity to downtown, their neighboring lots are left basically undeveloped. Why? I used to live over the freeway on Melrose. It stank. It was loud. My place was hot because of both the heat coming off all that concrete and the fact that there were no buildings shading mine. We were exposed by the wide swath cut through the city.

Only a hard-core urbanite would want to live, work, or play right next to the freeway. And yet it marches right through downtown. Think of the lost property tax revenue from under or unutilized land. Did the state compensate citizens of Seattle? Do I-5 users now? Of course not.

The sound and sight impacts of I-5 need to be mitigated. 405 has a 'beautification committee' for its expansion, believe it or not. When I-5 is repaired and reworked in Seattle, there must be sound walls and murals and lids and accessible vegetation. Seattle has suffered the most and the longest from freeway impacts, yet the outer suburbs like Lynnwood and Redmond are the first to get mitigation.

Meanwhile those same people with sound walls at the end of their sparsely settle streets whine about how they can't bear to lose the view from the Alaskan Way Viaduct and I-5. They're going to need a periscope to see over the weathered plexiglass and concrete walls. Or they could just take a bus from a Park and Ride to downtown. Join me in one of Seattle's great free public lookouts like Kobe Terrace Park, Myrtle Edward Park, the 40th floor of Key Tower or the balcony outside of the Mayor's office in City Hall. In Kobe Terrace they'll need to bring along a lozenge if they're having a conversation, or earplugs for silent reflection to help deal with the freeway noise. But at least they'll be able to enjoy it for more than 20 seconds, and they won't annoy folks living and working around the freeway.

If you'd like to read more of my outlandish freeway views, check out http://www.zombiezodiac.com/rob/ped/freeway .