Pedestrian Deprioritization (Seattle)
Places like this make it clear that pedestrians are at the bottom of the pecking order.
This is part of the special feature Freeway Box, showcasing my old life next to freeway viaducts.
I'm angry. Here's why.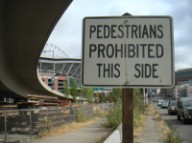 It's impossible to walk on the west side of 4th Avenue South, north of Royal Brougham. Presumably when the interchange was built in 1980s, WSDOT (Washington State Dept of Transportation) determined that they couldn't have a pedestrian crossing fowling up their freeway exit and entrance. So they built a crosswalk to the east side, and also put a bypass crosswalk around the outside of the freeway ramp between it and the BNSF rail lines.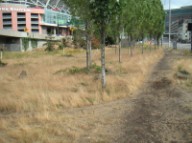 From the south, you're tempted by the social trail, well-worn by homeless, as well as the attractive landscaping. The landscaping is meant to make the driving experience more pleasant. Stupid pedestrians assume it is meant to make the walking experience more pleasant, and it looks like the nicest place to walk in the area. After every game you'll see police officers scream their lungs out at frat boys running across the freeway on and off ramps, who made the trek up through the landscaping to find no crosswalk. I feel sorry for well-meaning cops who don't understand that it's really the engineers' fault.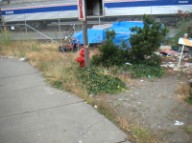 The sidewalk around the onramps served a generation of Kingdome and later Exhibition, Safeco and Qwest visitors very well. Heading from the bountiful parking in the International District, your first inclination is to cross 4th to the west side. If you travel south, suddenly it comes to an end. Everyone would funnel to the sidewalk around the freeway ramps.
Perhaps you noticed in this photo that something is amiss.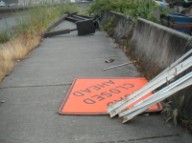 A couple of years ago, with no public outreach and little fanfare, this sidewalk was decimated in order to squeeze another rail line in to King Street Station. I watch projects carefully. I read the City Council briefing on changes to allow Sounder to increase speed in south Seattle. I attended all sorts of meetings for SR 519, monorail, Sound Transit, charrettes, watched and read everything I could about changes in this area. I live here, it's my responsibility to keep an eye on crack pot planners. However, this one slipped by me. I'm irked. I'm going to push this one. There will be some sort of restitution.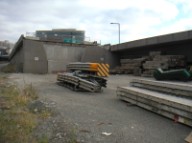 The sidewalk from Royal Brougham leads to construction staging. The old onramp ends in a sudden wall. It's actually hollow inside. It would have made a good homeless camp. Instead, the homeless are using the discarded sidewalk space for semi-permanent encampments and spots to binge on alcohol and crash unnoticed.
Why not just put a temporary stair case off of the end of the ramp? Well, I guess nobody gets up to get down these days. Where's Public Enemy when you need them?