Pedestrians: a security risk and expensive (Seattle)
Our regional transit agency has padlocked a pedestrian bridge near my home for the last two months to keep me safe.
For 5 years they left the gates open. Suddenly, perhaps in response to an executive edict to strengthen security system-wide, they have been locked each weekend for the past two months.
Before I jump into all this, I want to state a disclaimer. My only intent is to get the Weller Street Overpass opened. It is a total coincidence that I am ranked number one on Google Images for the query "terrorist training camp." I do hope that Sound Transit also takes to heart my warning about obstructing access to the transit tunnel and station area, though.
First I give you a quick survey of the area, then the letter I have just sent to the board of Sound Transit.
Area Survey
We'll begin with my neighborhood perspective, then move across the bridge and take a look back.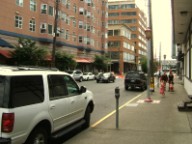 This is Weller, looking west toward 5th. This family may well have walked straight from the overpass in the distance. There are at least 55 neighborhood businesses within two blocks of 5th S and S Weller. All but a few are retail or restaurants.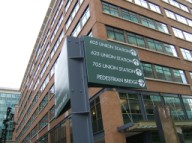 A sign at Two Union Station directs walkers to the Pedestrian Bridge - hope they don't see this on the weekend!
The park-like space along the Weller right of way connecting 4th and 5th.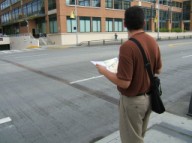 I saw this gentleman reading the wayfinding and interpretive sign at the bottom of the west end of Weller Street Overpass. Up on the east side he double checked his cultural map. I stopped by Uwajimaya at the end of my trip and saw him come in as I was leaving. The Weller Street Overpass really encourages tourism and draws dollars to local businesses.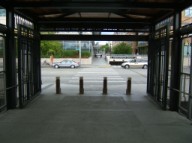 Bollards block off the east end. I've only seen this gate locked once. Both at the west side have been locked each time. The elevator has been left on once, the stairs to Sound Transit platforms left open at least once. It seems totally random but always manages to obstruct pedestrians.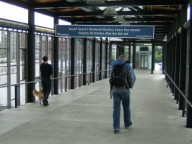 One pedestrian on his phone walking his dog. Another in urban walker gear. Both assume this walkway remains open to the public 24 hours a day. Little do they know that it is shut down before the Amtrak run from Vancouver arrives at midnight.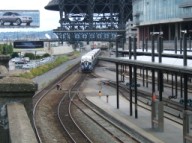 The last Sounder train of the evening heads for Tacoma.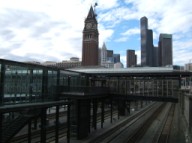 Sun breaks over Seattle and the overpass.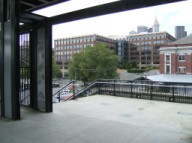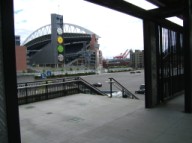 Gates can be shuttered on either stair case at the west end. It must be frustrating to carry your luggage up from Amtrak only to find it shut tight. Last weekend I ran into a father and daughter trying to get to King Street Station before the train to Los Angeles left. They hurried back to do the 5 block circuit caused by the gates. I decided to explore the Sounder platform and was glad they didn't try to get to Amtrak that way.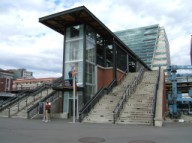 Stairs cascade down from the west end to the Qwest Field parking lots. The architects should be proud, because it's a very attractive structure. Unfortunately that draws in the pedestrians from far away, and on weekends they are S-O-L.

The Qwest Field lot has only five exits. One leads south on Occidental to Safeco Field and the Exhibition Center. One splits from the northwest corner, on Occidental to Jackson and on King to 1st. The other three are candidates for getting to the International District. On 2nd to Jackson (then Jackson to 5th), up unsigned stairs at King Center to 3rd and Jackson (then Jackson to 5th), or the most direct and obvious way: up the Weller Street Over Pass stairs to 4th, through the inviting park-like setting to 5th and Weller.
The Letter
Sent 7/14/2005
Pedestrians are a security risk and expensive?
Sound Transit Board Members,
For the last two months, Sound Transit has locked the Weller Street Overpass each weekend. I've been given two different reasons for the change: reduce security threat and save operations costs. Neither makes sense.
The Weller Street Overpass should never be closed. Please change your policy, or correct enforcement if a mistake has been made immediately, because the pedestrian bridge is unable to fulfill its charter: connect neighborhoods with transit and entertainment.
What is the Weller Street Overpass?
Because many Sound Transit Board Members may be unfamiliar with this area, I'll give you a brief introduction to the overpass. It is a pedestrian bridge that runs from 4th Avenue South across the BNSF railroad tracks and over the passenger platforms of King Street Station to the sprawling parking lot north of Qwest Field. It is a continuation of Weller Street, which dead ends in a pedestrian plaza at 5th Avenue South across from Uwajimaya. The overpass serves as a direct link between the International District, Qwest and Safeco Fields, the Exhibition Center, and Pioneer Square. From a transportation perspective, it serves a vital link to King Street Station, bus stops on 4th and 5th, the International District Bus (soon Link Light Rail!) Tunnel Station, and the future monorail station.
I have some photos on my website of the overpass and surrounding area. Even if you don't read this email, please check them out at http://www.zombiezodiac.com/rob/ped/archives/seattle/pedestrians_a_security_risk_and_expensive.html
What could the threat be?
A Sound Transit security contractor gave me their interpretation of the reasons for this policy. Keeping people off the tracks, reducing the chance of injuries on the stairs, and stopping transients from crossing were all mentioned. Locking the gates does not fulfill any of these goals, so I assume the contractor has misunderstood the rationale behind the policy.
I can't think of a real security issue that is solved by locking the gates. Anyone determined to perpetrate a crime or terrorist act can simply go around a few blocks. The inconvenience will not deter them. Any criminal or terrorist act that could be carried out on the overpass could more easily be achieved from another location. For example, a car bomb can't get past the bollards on the east end or stairs on the west end, but it could drive straight into King Street Station into a full train, or even down the train tunnel under downtown Seattle.
I am actually worried that by focusing on non-threats like the Weller Street Overpass, Sound Transit security planners have allowed real threats to go unresolved.
Expensive to operate?
I can't believe that operation costs could be a real concern. There is nothing to operate. I stopped by King Street Station to ask an Amtrak employee if he had any idea how to contact Sound Transit security. He assured me that he did not, and that security could not be contacted until Monday when the offices opened. In fact this is not true, certain individuals know the unpublished number to call and get service. Anyone else will call 911 if there is a security issue. Operations costs are absorbed by the Seattle Police Department, not by Sound Transit Security.
Who needs it?
Last weekend, the International District hosted our annual Summer Festival both days. Qwest Field hosted soccer's Gold Cup Playoff Finals on Saturday, featuring matches between the national Cuban, Costa Rican, Canadian and American teams. Anyone trying to get from one to the other met a locked gate.
I saw a father and daughter try to cross from the ID to the Los Angeles-bound Amtrak Coast Starlight.
Personally, I was trying to walk my dog. Perhaps you're aware that there is very little green space in downtown Seattle. My neighborhood doesn't even have grass or flowers along the sidewalk. On weekends I sometimes walk my dog a bit further, and do the circuit of the north Qwest Field parking lot for variety.
Really, who cares why people cross the bridge? The fact is they do it, and do it in large numbers. On Saturday when I found it locked, I saw 20 people come and try to get across over the course of 5 minutes. An elderly black woman was so befuddled that I had a hard time explaining to her how to get to the King Center stairs up to Jackson. I don't know if she ever made it.
In Conclusion
This bridge was built for the community as mitigation for stadium construction. Neighborhood leaders negotiated to get this direct link between homes, businesses, stadiums, and transit. They didn't just do it for commuters on weekdays. No, this is a community resource open to the public. I hope that you will do the right thing and leave these gates open permanently.
I have exchanged email with Denene Mills who relayed my request for information to security management. I've spoken with Sound Transit security contractors, Amtrak employees, neighborhood leaders, everyone that I could get in contact. Of the few people aware of this issue, none can give me any details that make sense of this seemingly arbitrary decision to close the gates. I would be happy to work with the administrators of the bridge on a more sensible policy. But I can't imagine a concern significant enough to warrant ever closing these gates again.
---
UPDATE: In August I finally got traction on the overpass. Sound Transit apparently unilaterally decided to close it down because of homeless people urinating. Needless to say, other partners in the cross-government agreement were unhappy (City of Seattle, King County, Stadium Authority) when they discovered what was going on. Due to a screw-up a few weeks later it was locked up again and I threw another fit, and got more apologies. In October I heard word of mouth that the elevator is being turned off outside of commute hours, which would be a serious ADA violation if it is true. I don't know when or if I'll be able to follow up on that.