Mixed Use Buildings (Tokyo)
Density can lead to surprising combinations of uses in buildings.
Amazingly, the city of Seatac, near Seattle, Washington, USA, considers two buildings of different use on the same property to be "mixed use". Hopefully someone from their planning office or city council sees this and corrects their mistake.
Wikipedia is closer to the mark, pointing out that the walking-oriented cities of much of human history led to value in density and concurrent use of space.
Mixed-use is presented in urban planning literature as an ingredient in the herbal remedy that cures America of its auto-addiction. Strong new mixed-use laws in some forward-thinking cities are changing the landscape, leading to impressive stretches of lowrise structures, all with retail on the ground floor.
However, that's all for the large-scale developer. An American family would struggle to find a loan to build a house with a small business on the first floor. On the other hand, in Tokyo that's the original model of every neighborhood business district.
Unlike American or European countries, Japan has never had draconian separation through zoning. On Tokyo's vast boulevards and on tiny neighborhood streets, property owners test every possible aggregate of shop, office, housing, or industrial use.
So what can we find on the street?
First, a few examples of normal buildings in Tokyo.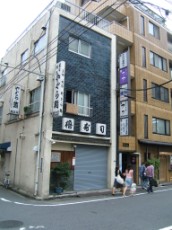 In this Kinshi-chou (錦糸町) building, a sushi restaurant sits on the first floor, with what appears to be the owner's home on the second and third. This is the prototype of Tokyo mixed use. It leads to a totally different neighborhood dynamic than that in America, which has non-resident business owners and residents who work far away.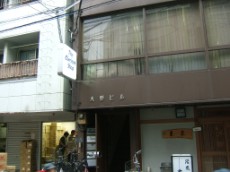 In another spot in Kinshi-chou, the building on the left is a warehouse on the first floor and apartments above, while the right has a small fish restaurant at street level and the offices for The Clarinet Shop above. Kinshi-chou is part of Shitamachi, the historic quarter of Edo that housed commoners and craftsmen. It's still predominantly a blue-collar, mom-and-pop, cheap-drinks-with-the-guys kind of place. But soon Sumida Tower will open up, which is meant to rival Tokyo Tower and celebrate the true roots of Tokyo.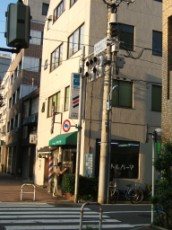 Another common sight is retail on the first floor, this time a barber shop, with a couple of floors of offices above. This is south of Kouenji (高円寺) and Nakano (中野) on the highway Kan-7.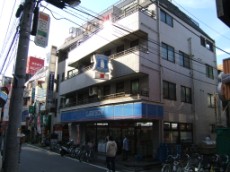 My final example of run-of-the-mill mixed use is this convenience store with apartments on top in Kameido (亀戸). This is on a shopping street that runs behind the station.
Buildings like these are so common, you don't even notice them when walking down the street. They're everwhere. So, how about a few out-of-the-ordinary examples?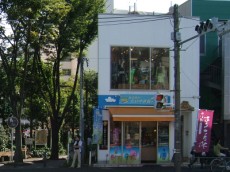 Just south of Kameido in Oojima (大島), this two-floor building has a boutique on top and a tai-yaki (タイヤキ) store on the bottom. My dictionary calls tai-yaki "a fish-shaped pancake filled with bean jam". I prefer to call them snapper-shaped waffles. It's strange enough to see a tai-yaki store, since they're normally stands set up on the side of the street. It's even stranger to see it beat out the boutique for rent payments.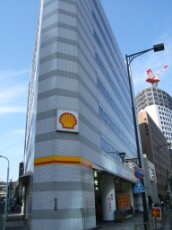 In Akasaka (赤坂), this office building has a Shell station in the bottom. This really caught me off-guard. The image of mixed-use in current Western planning is urban, dense, walkable, transit-oriented, neighborhood-focused development. In fact, I think this building would be illegal in Seattle because auto-oriented uses are forbidden near train stations. Seeing this building, just a two-minute walk from Akasaka Mitsuke Station (赤坂見附駅) really made me think. Central Tokyo is all dense, it's (almost) all walkable, you're never more than ten minutes from a subway or train. You have to put the gas stations somewhere. I just can't see any fire marshall in America approving these. I do remember seeing abandoned pumps inside parking garages, but that's just not the same.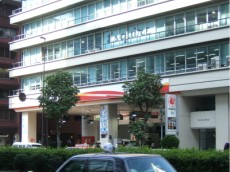 So I wasn't so suprised to see this building in nearby Aoyama (青山), just seconds from Aoyama 1-chome Station (青山一丁目駅). This time it's an Idemitsu gas station. But instead of a generic office tower, it's capped by the stylish offices of Esquire Japan. This faces right out onto busy Aoyama Boulevard (青山通り).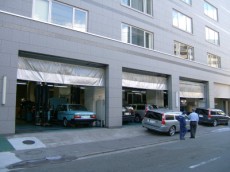 Slightly less susceptible to terrorist attacks is this mechanics shop. It rests below an office building in expensive Roppongi (六本木). It faces onto a smaller back road. Retail on the other side of the building faces busy Roppongi Boulevard (六本木通り).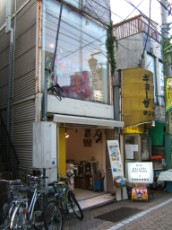 On a neighborhood business street heading north from Kouenji, this building houses an art gallery, Disco Girl, on the second and third floors (actually, four half-floors). On the first floor is a natural honey shop, Yoshino Pure Honey Store. Apparently the owner's grandfather was a serious beekeeper and honey-researcher. His father opened a honey and natural foods store at this location in the 70s. His father let him use the upstairs as a gallery - which he rents out to anyone, mostly students, for Y10000 ($100) a day - starting in 2000. The store closed in 2004, so he decided to use the first floor to just sell his family-made honey. Pretty amazing. Can't tell you how many neighborhood magazines and papers I've seen him in.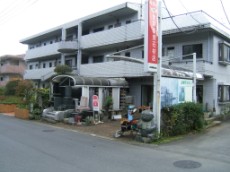 Finally, an example from out on the edges of Tokyo. This is up in the mountains, a 40 minute walk from Takao Station (高尾駅), in Old Hachioji Town (元八王子町). Just after you pass under the Central Expressway (中央自動車道) you find a town with a morbid economy. This building captures it perfectly. It's an elderly care home on the second and third floors, as well as the left side of the first floor. On the right side of first floor is retail space housing a grave-stone maker. Just to drive home the point, the view from the front windows of these old folks' apartments is of a steep hillside, covered with a broad cemetary. I'll let you find the punchline.