Three Bit Rise (Tokyo)
Name:
三分坂 さんぷんざか
Sanpunzaka, Three Bit Rise
Location:
赤坂5丁目5番、7丁目6番の間 
Between Akasaka 5-5 and Akasaka 7-6
This article is part of the special feature Akasaka on the Rise. Check it out in my Live Maps Collection.
The official description:
急坂のため通る車賃を銀3分(さんぷん:百円余)増したためという。坂の渡し賃一分に対して言ったという説も。
It's said the name stems from the 3 bit (about 100 yen) cost of having your cart pushed to the top. There's also a story that it refers to the cost of ferriage across mud at the bottom.
Unofficial explanation: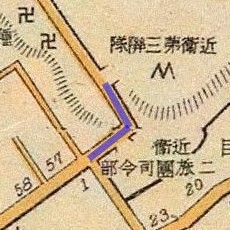 Three Bit Rise comes up from Akasaka Boulevard (赤坂通り, Akasaka Doori), and peaks near a junction with Entsuu Temple Rise, Inari Rise, and Drug Mortar Rise.
Three Bit Rise is not labeled on the couple of dozen historic maps I've reviewed. It's an obvious spot to be memorialized, though, with a steep grade, an adjacent temple, and a drastic switch between estate highlands and commoner lowlands. This map from 1910 nicely depicts the grade change. Incidentally, it also shows the land on top of the hill being used as a base by the Imperial Army 3rd Infantry Regiment, and on the bottom by the 2nd Infantry Brigade HQ. Akasaka's uplands were daimyo estates, then military grounds, then office buildings and expensive foreigner housing.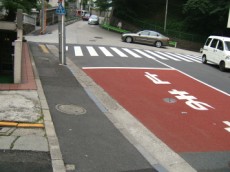 What I translate as "three bit" is really "san-pun" or "three part." This refers to three pieces of a quartered ryou, an old Japanese coin. Tamori's 2004 book "Introduction to the Aesthetics of Street Rises" (タモリのTOKYO坂道美学入門, Tamori no TOKYO Sakamichi Bigaku Nyuumon) pegs the value of three-quarters of a ryou at 200 yen. Incidentally, "bit" is an old way of referring to a cut coin in English. [The photo looks up from the west approach.]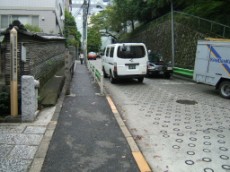 The offices of TBS, Tokyo Broadcasting Systems or formerly Radio Tokyo (ラジオ東京), stand at the top of the rise. Founded in 1951, Radio Tokyo built a transmission tower here on the former Army 3rd Division land in 1955. 5 years later they moved transmission to Tokyo Tower, but their offices and studios remained in Akasaka. TBS inspired my efforts with their page Touring Akasaka's Rises. TBS has worked hard for the community since joining Akasaka, and they've recently begun construction on Akasaka TBS Project, their contribution to the urban renewal in Tokyo. [The photo looks up from the base of Three Bit Rise.]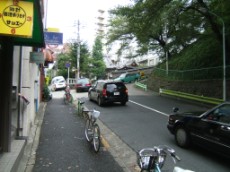 Houdo Temple (報土寺, Houdoji) sits at the bottom of Three Bit Rise, in a rather nasty intersection as the road splits into two still-sloping streets. One leads to Akasaka Boulevard and is arguably the main street. The other is a straight continuation, though. There is no signalization. As far as Houdo Temple, it was founded in 1614 in nearby Hitotsugi-cho (一ツ木町), and moved to this location in 1780. It's most memorable for housing the spirit of a famous sporting fighter from the Edo period. [The photo looks up from Akasaka Boulevard]