Three Valley Rise (Tokyo)
Name:
三谷坂 さんやざか
San'ya-zaka, Three Valley Rise
Location:
六本木1-2と赤坂1-14の間を南東に上る? 坂上正面にホテルオークラ?
Between Roppongi 1-2 and Akasaka 1-14, up to the southeast? Hotel Okura is at the top of the hill?
This article is part of the special feature Akasaka on the Rise. Check it out in my Live Maps Collection.
The official description: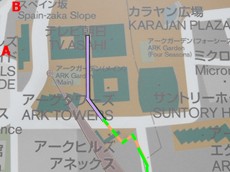 There is no official description from Minato Ward, though it is identified as defunct by the Slope Society of Japan.



Unofficial explanation: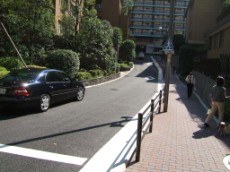 I have found a few pages claiming that this rise stretches from Ark Hills (アークヒルズ, Aaku Hiruzu), along the Homat President condominiums and ending at midway along the Hotel Okura, (ホテルオークラ, Hoteru Ookura). As with the supposedly adjacent Festival Drum Rise, though, I'm not convinced this is the true historic location of this rise. [Photo is looking up towards Hotel Okura. Homat President on the right, Ark Hills behind us.]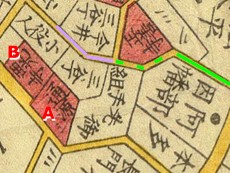 The rise's name originates from the three valleys that surrounded it, called South Valley, North Valley, and Mid Valley. I can't find any maps that specifically mention Three Valley Rise. However, in this 1858 map, two communities have already developed that are named "Three Valley District" (三谷丁, San'ya-chou) and "Imai Three Valley District" (今井三谷丁, Imai San'ya-chou). Considering that these are along the road that must hold the street rise, it seem too coincidental to ignore. I've marked in purple where I think the rise was, right between them. I've marked in solid green the portion of this road that corresponds with the location described by other sites. I've marked in dotted green the road between them.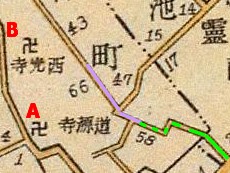 At the top of the page I included a map of Ark Hills, including where I believe the slope might be today. It was quite difficult to come up with this guess. I started with the 1858 Edo map, and noticed that two of the temples next to the districts still exist today. I've labeled these as A - Road's Origin Temple (道源寺, Dougenji) and B - West Light Temple (西光寺, Saikouji). The main problem is that old maps were not able, nor attempting, to be exact to-scale miniatures of the real world. So what looks like a twisting road in 1858 might be a triangle in 1905 and a square in 2006 as it is contorted to different ends. What's more, roads have gone through tremendous changes, especially when boulevards were opened for streetcars, highways were put through overhead, and land was 'rationalized' to consolidate property. So the apparent differences might or might not be real. This is the 1905 map. I also used a 1955 map to bridge the gap. Along the way I found a wonderful hand-drawn map of elevation in the area.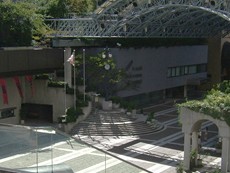 So if I'm right, the old rise would cut between Ark Towers and TV Asahi. It would then dump down a stair case into Karajan Plaza (カラヤン広場, Karayan Hiroba), which is visible here on the opposite side of the plaza. It's worth mentioning at this point that Ark Hills was built by Mori Building in 1986. Minoru Mori began his construction empire in the 1950s, and he now reigns as the most recognizable figure in the redevelopment of Tokyo. His project Roppongi Hills (六本木ヒルズ, Roppongi Hiruzu), completed in 2003, remains the subject of many articles, books, and television shows. Ark Hills created Spain Rise (スペーン坂, Supeen-zaka), leading up to the Spanish Embassy (スペーン大使館, Supeen Taishikan), and Roppongi Hills created a new Cherry Rise (桜坂, Sakura-zaka) within its boundary. However, it's significant to me that Ark Hills destroyed two historic rises and left no trace of them. There is a purposeful selectiveness of neighborhood character, retaining or creating only what will sell to the elite residents and customers of Mori's new "Vertical Garden City".