Dogs and Kids (Vancouver)
Urban life with dogs and kids.
This article is a preface to the special feature series Dog Doo Signs of Tokyo.
Last July I joined a trip sponsored by Feet First to Vancouver, BC. Feet First is an advocacy organization supporting pedestrian-related issues. This trip brought together an interesting mix of folks from Seattle including developers, city officials, advocates, and design professionals. We were hosted by former Vancouver Councilmember Gordon Price and Vancouver Senior Planner Michael Gordon, who each led half the group on a walking tour. The intent of the whole thing was to get everyone to think about how Vancouver has gotten a walkable city center, talk about the differences between the cities, and brainstorm ways for Seattle to be more walkable.
Many of the details have escaped me in the last six months, but luckily I have some photos to frame comments around. Unfortunately you'll end up with a bunch of info about dogs that I've picked up over the years and very little about planning history and law in Vancouver.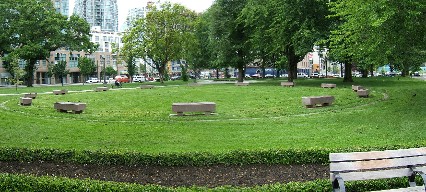 Vancouver's Pacific Central Station, terminus for the Amtrak Cascades from Seattle. It's a short walk to the SkyTrain station or a water taxi.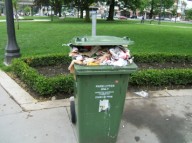 Full garbage cans interest me. This could be an indicator of high pedestrian traffic volumes. They definitely need yet another can or more frequent pick-ups. The text indicates another problem, though. Some urban residents in Seattle's International District take all of their garbage to cans on the street, filling them up to overflowing on weekends. I can't think of any reason but sloth, because they've got dumpsters in their own homes. In Japan, though, many businesses have removed garbage cans because residents are avoiding high waste removal costs by dumping at convenience stores. I wonder if there's a good book on the topic.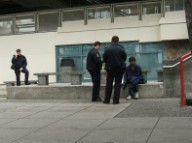 Vancouver has a serious issue with drug addiction, maybe worse than Seattle. To these cops it's all in a day's work. Once is on his mobile phone, and another is pretty jovial about the whole thing.

The view north from Science World. Downtown Vancouver's towers ring the horizon. The gray area on the right third of the photo is a huge surface parking lot that capped over an industrial site. The city will truck in soil from Olympic and other construction in order to make it safe, and then it will be a huge new park. Home owners in nearby, newly-built condominiums impatiently prod the city along and ensure progress is being made.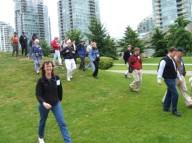 Walking back towards Science World. In the background are the above-mentioned condos just north of Pacific Central. Vancouver has a great system set up for local improvements funded by local development. A percentage of construction costs are set aside for parks, transportation and other infrastructure costs necessary to make urban life safe and enjoyable. Developers get more valuable properties and know that every project kicks in its fair share.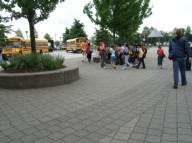 Children return to their bus after a field trip at Science World. Science World is a remnant of the World Expo held in Vancouver in 86. It was an important milestone in the city's redevelopment, creating a mass of developable land on the edge of downtown. Much of the land was formerly affordable housing, though. New projects are required to have a percentage of affordable units within them.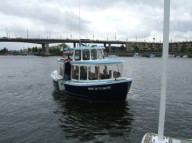 Two water taxi companies operate in False Creek. They are very popular among families with small children because they connect Science World, Granville Island, Sunset Beach, and several other family-friendly destinations. Plus kids love boats. They're also a good way for tourists to get between many spots that are not reliably served by taxis, like Yaletown.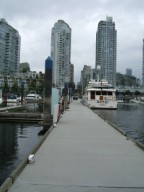 The view from the southeastern-most tip of the pier projecting from Davie Street, after getting off the water taxi.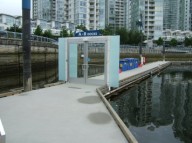 A very fancy security gate protects a False Creek marina. A normal marina would have chain-link fencing.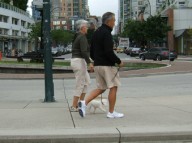 My first dog spotting this day in Vancouver.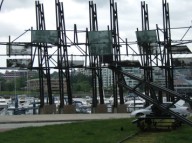 At the roundabout end of Davie Street, steel panels display the working history of the city. Flood lamps light them at night.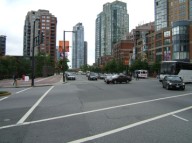 Pacific and Davie, apparently this is the biggest intersection in Vancouver, with the longest crosswalk. Seattle certainly has many larger than this. An indication of why Vancouver seems so walkable over a long distance.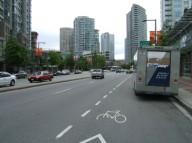 Pacific Street is the planned route of a streetcar, which should loop through downtown and compliment an additional light rail line, SkyTrain, B-Line bus rapid transit, and their bus system. They don't seem to plan on completing it for the Olympics. Or maybe they'll just slap it in real quick.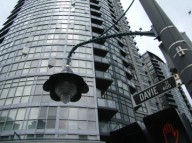 A lily-shaped pedestrian light at Davie and Pacific.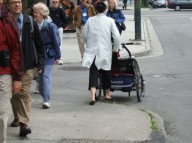 Vancouver's booming downtown residential population features a large number of young families. Although children are a treasure that many cities covet, Vancouver has the lucky problem of needing to now supply missing infrastructure. Elementary schools were forgotten when considering livability improvements. Also, already-large sidewalks would serve SUV-like offroad baby strollers better if they were a bit wider.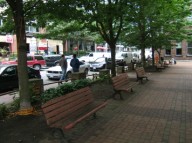 Park in Yaletown.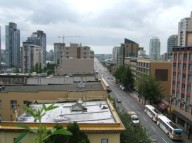 View south on Burrard Street from our roof-top lunch spot.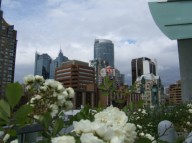 Vancouver towers.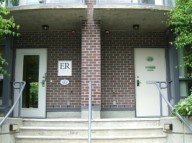 One great thing about Vancouver's mixed use is the amount of design variety. Here are the entrances to two offices at the bottom of a condominium tower.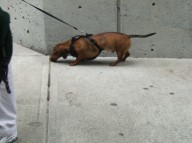 Another dog, walking on a sidewalk pressed with leaf patterns.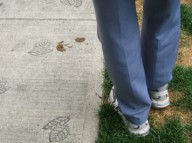 Dogs seem more popular than ever world-wide, and every urban neighborhood has some degree of dog-poo problem. Notice though the grass strips. Vancouver makes a great effort to soften urban streets with not only trees, but also grass and flowers. In fact, new developments must also green their alleys, using part of their parcel to let light in and reduce the attraction of garbage and crime.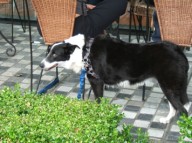 This dog's owner brought her along and sat outside at the cafe.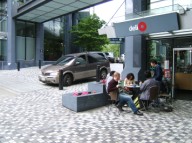 Every Bellevue resident should look at this scene. Recently I saw an article touting Kemper Freeman's development along Bellevue Way NE in Bellevue, WA as being pedestrian friendly, especially Lincoln Square with its hotel, retail, and cinema tower. Folks, this is a pedestrian friendly hotel development in Vancouver. Uses spill out onto the sidewalk. The sidewalk takes over the whole driveway with its woonerfy use of the same paving and simple bollards to stop cars from blocking walkways. Lincoln Square has a huge driveway, it's dark and deep and obviously car-oriented. The map inside touts the great freeway access, describing the 'right way' to get there via NE 4th. Maps don't include bus stops or walking routes or anything else non-auto. Enough about Bellevue.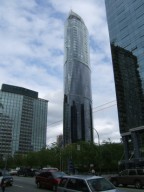 Other folks on the trip hated this building, saying it was out of place in Vancouver. I kind of liked it. Now I know how those New York tourists felt who told me they like the Columbia Tower. Evil corporate office buildings don't hold much appeal for residents, but out-of-towners might appreciate their over-the-top, in-your-face charm. Probably because they share an abundance of hyphenation.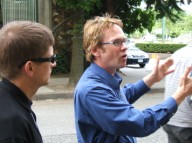 My half of the group was guided by Michael Gordon. What a great guy. If you didn't know any better you'd think he was a 26 year old skater punk planning school student intern.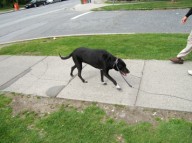 This dog is in no hurry.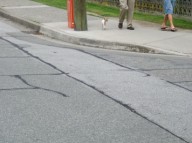 This little guy is easy to lose track of on a sidewalk.
This dog should be jogging.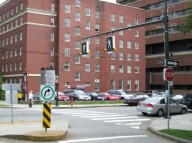 All over Vancouver there are pedestrian half-signals. Sometimes called an "eagle crossing", they are crosswalk push-buttons which elicit a red light for cars, with no stop light in the other direction. This is an oddball. It only causes yellow lights to flash, alongside the huge glowing pedestrian signs. It's great that they reversed one of the signs, so drivers remember that people come from both directions. There's a lot going on in this intersection but it seemed to work.

Next to Nelson park, the city bought up these houses for a failed plan, then decided to refurbish the historic houses and rent them out as affordable housing. The facing park was nice and big, and obviously well used by dog owners.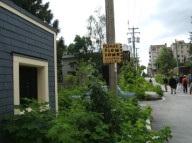 The road behind the historic houses has been redesigned to be neighbor-friendly. By tossing all uses together and taking on a people-first appearance, it is a green woonerf or a green Japanese residential road.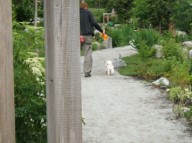 It also provides a great route to take your dog to the park. Owning a dog changes an urban resident's needs and priorities. Dog-friendly design elements are little discussed by planners and landscape architects. One key is a variety of 'soft' surface in contiguous chunks. A neighborhood with no grass, barked garden, or even bare dirt on plane with the sidewalk and in at least 4 foot by two foot strips will repel dog owners. If your dog has to go the same route every day and has to pee on poles and poo on the street, it won't be nearly as happy as if it can choose between favorite destinations and pickily sniff in circles for the choicest spot in a patch.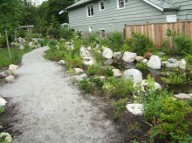 The dog owner winds his way further towards the park, filled poopy bag in hand. Green space is very important for children. They gravitate towards ponds, mudholes, and ditches to play in the dirt and chase crickets, frogs, worms, all sorts of creatures. In a dense urban environment, single-use spaces are a heavy-handed luxury, taking up precious space and excluding potential customers. By their nature, dogs and kids like the same types of places. We can fence off parts for dog runs or baseball diamonds, but they'll still overlap in actual used space. So it's extremely important for dog owners to self-regulate, pick up poo, and try to keep their animal off of the most used play areas. I've never seen a "pick up your poo" sign that even hinted at health issues or just the need to retain families in cities and not disgust parents. Some people actually think it all just magically washes away.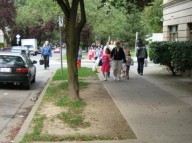 These children are guided on a field trip down a city sidewalk. No school bus needed.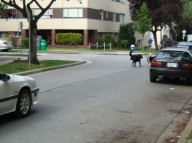 Sometimes there are too many people on the street to effectively "people watch", and it's easier just to "dog watch". I can't stop myself from saying "puppy!" every time I see a dog. I barely got a shot of this guy walking two dogs while he rides his bike.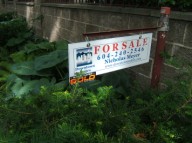 The real estate market in Vancouver continues to race along red hot.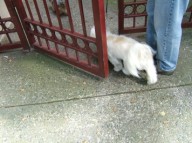 This little guy's almost home. Hopefully he got a treat.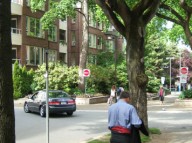 This is a great street, and amazingly it's just a block off of Robson Street's hottest retail section. Thurlow.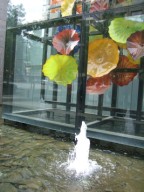 A very tasteful setting for public art just north of Robson.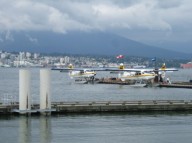 Downtown Vancouver's north shore is an active transportation hub. A heliport and float plane port compliments cruise ships, commuter rail, and SkyTrain's terminus.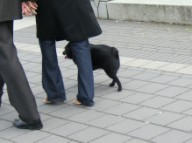 Lotsa love in this family and that dog looks really happy. She's being walked along the Coal Harbor path.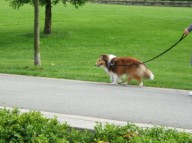 Another dog on the adjacent path.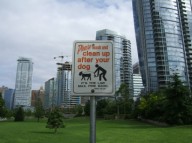 A little bit further along, a sign tries to remind folks to clean up. So much space for leg stretching under the residential towers.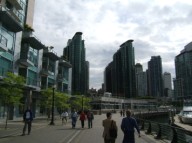 All sorts of people walking along the bay under the towers. I even saw a nun.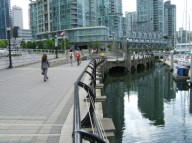 Graceful curves along the marina.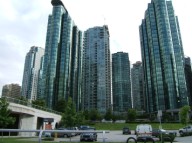 Dark green towers play off colors in sky, sea and land.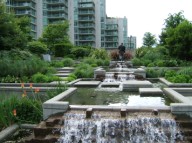 A fun water feature.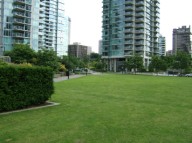 Hopefully this space is active, it reminds me of the design that Jane Jacobs trash talked in her masterwork, where the open space became feared, empty land. One good thing about dog walkers is that they explore nooks and crannies and are out early in the morning and late in the evening. Even if the owner commutes to work by car, they're forced to walk at least a few blocks around their home by the nature of bladders. A good step towards an urban neighborhood crime watch would be to put all dog owners in contact with each other, then hook them up with community police. There's good reason to accommodate and leverage dogs and owners, but more effective means need to be found to keep it clean.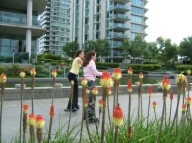 Leisure activity.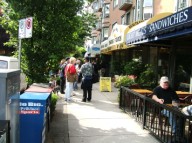 At its west end, Robson Street suddenly slims down and takes on a comfortable neighborly air.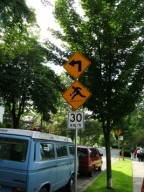 I translated this sign to mean "Karl Malone ahead: make a Gary Payton move" Cut hard left while dribbling at 30 km/h.

The view from the top of Gordon Price's condo building. Stanley Park.