Neighborhood Business Districts (Cologne)
Neighborhood business districts in Cologne (Koln), Germany.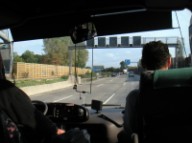 First, I'd like to take this opportunity to point out the extensive sound walls on freeways between Cologne and Dusseldorf. There are a variety of patterns, and many are overgrown with vegetation. It's nice that the focus is on reducing impacts on neighboring properties, and only as a side effect is the driving experience improved. That reminds me that I'd like to get ahold of any meeting minutes or other information generated by Seattle's I-405 Beautification Committee. One other point: drivers are much more skilled in the Rheinland than Puget Sound. Even in heavy traffic they kept right except to pass or drive fast, and street markings were used as guides, not rules. Drivers would maneuver their cars for safety or speed in ways that would freak out any surrounding drivers in Seattle.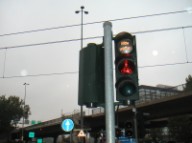 Pedestrian signals in Cologne have three phases: red person and bike for don't go; green person and bike for go; and "Please Wait" to acknowledge the button press and let folks know they will get a green on the next cycle.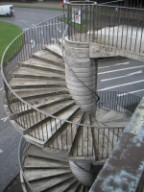 This fairly brutal design for public stairs was repeated throughout Cologne. I'm guessing there was a "buy 5 get 1 free" deal or something. The lack of elevators is of course common on all older stairways. The real functional problem with this spiral stair case is that they didn't cap off the bottom. I suspect that there are a number of drunks each year who keep spinning and spinning and eventually slam their head into the underside of the stairs at the bottom. Just a secret between you and me, I thought these stairs were cute for some reason and went out of my way to use them whenever I found a new one.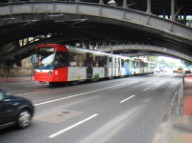 Light rail vehicle travels under a heavy rail overpass on its way south from Koelnmesse, the city convention center. The vehicles were clean and convenient, the rails were quiet, and the routes were well used. Cologne's extensive system of transit, and direct rail links to major northern European destinations, make it a great place to visit. Add on a vibrant pedestrian-only city center and major pedestrian and bike routes linking neighborhoods throughout the city, and it just gets better. I didn't have time to visit the sites of Alweg monorail infancy or the city history museum from Roman days up, or even go inside the massive, ancient cathedral, but it was still very nice.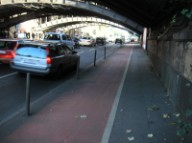 In places they did seem to forget about how important pedestrians are. This is a different shot in the same location as the light rail above. Now you see the heavy car volumes on this street and get a sense of the high speeds. The poles are barely functional to stop traffic and certainly aren't attractive. Too much sidewalk space has been striped off for bicycles, especially considering the proximity to the convention center and the large number of people walking back and forth from hotels (visible on the other side of the street). Furthermore, there were very few crossings to get past all of these cars and the central rail. Many people crossed at random despite the obviously dangerous conditions because they were fed up waiting for the long, long signals. This was the one place in Cologne that I visited that really didn't work for pedestrians.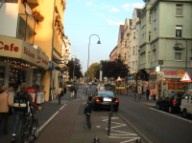 Pedestrians put up with the annoyances because just south is this great neighborhood business district. Where do I start? The road has been narrowed to slow traffic, with ample space given over to sidewalks, bike paths, and extra space next to them. Alternating placement of on-street parking forces vehicles to go even slower and provides a bit of buffer. Bollards, street lamps, striping, colored pavement, street trees, signs, attractive store fronts, big business signs, everything adds vibrance to the streetscape and distracts drivers from going fast.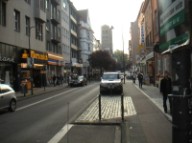 Another shot of the neighborhood businesses.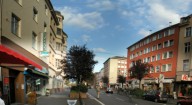 Here's a different neighborhood, reveling in pedestrian-oriented design.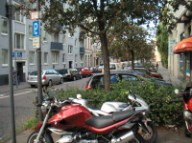 A block away, an apparently quiet residential street also is home to a hotel, offices, and several street-level retailers. Diagonal parking is used to increase parking capacity while calming the street. Plentiful trees keep the street to pedestrian scale despite the four or five storey buildings. Allowances are made for smaller vehicles like motorcycles. This street has much more parking on it than the last. That's okay, because the parking serves the businesses on the almost mall-like street around the corner.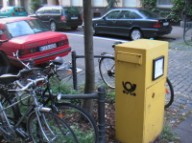 There's also lots of bike parking. Bicycle volumes aren't even comparable to Amsterdam, but Cologne's proximity to The Netherlands must lead to significant influence from Dutch planning. Bike lanes are plentiful, and infrastructure like ramps on stairs and bike racks can be found across the city. And as you can see, even if bicyclists don't command the roads, they certainly are making use of the facilities provided to them.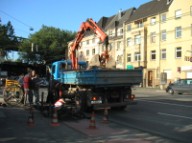 This scene cracked me up. Some utility work was being done in preparation for a major development. One man down in the hole was doing the work, shoveling out dirt. Another man with a clipboard reviewed his work. Five other men stood around watching and joking. Presumably they were supervisors, inspectors, backu-ups and independent experts. Seven men to get one man's worth of work done. Classic!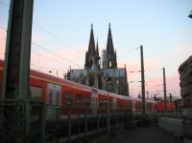 For those of you who were waiting to see the sights of Cologne, I give you their Cathedral (Dom). Right next to it is Cologne's central rail station, the Rhine river, and the pedestrian-only city center.