West Duwamish (Seattle)
I took an exploratory hike through the West Duwamish Greenbelt, as part of an ongoing research project into Seattle Municipal Railway's Division C, aka the Highland Park and Lake Burien Railway.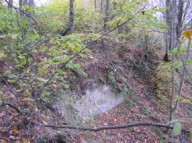 I started from the Riverview Playfield, where the old Burien Way right of way intersects with Highland Park Way. For some reason I just assumed there would be an obvious, ten-foot wide route with a narrow hiking path running down the hillside. I knew that a project is underway to turn Burien Way into a trail, so I guess I dreamed up a perfect scenario for myself. In fact, when I finally found an acceptable path into the wilderness I encountered many hazards, like this 15 foot cliff from a slide.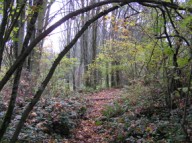 This was more or less the end of this meager path. I stubbornly thought if I foraged on I'd find the magical ten-foot right of way. Fifteen minutes later I was alone in the middle of a wild hillside, where no one could see or hear me. Really, my original plan was to borrow a GPS unit and come with a friend. My second plan was to go join a work party with rTrip, who are building a trail partly using the old Burien Way. Definitely I'll follow up on one of those for my next visit.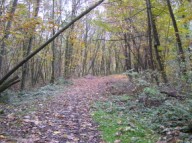 Eventually I got smart and forged my way straight up the slope and back to civilization. An image of myself with a badly twisted ankle, or having run across the wrong set of people, was tough to ignore. This photo is on a real trail, which runs north from the baseball diamond. There was actually someone walking their dog and everything.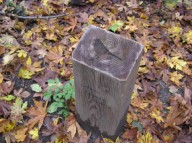 Along the old Puget Boulevard, a series of interpretive markers were installed. A path runs off of Puget Boulevard on Burien Way, but I wasn't sure which it was. Instead I headed down to the bottom of Puget Boulevard to the real Highland Park Way. There's a sign at the entrance with an interesting map of where the streets used to be. Unfortunately there's no corresponding map of existing trails, so it's tough to do anything useful with that map.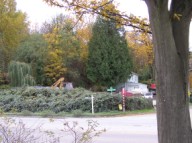 I had decided to try and enter Burien Way from the northern terminus, assuming that was where rTrip was beginning their work. According to my map, the trail starts in the front yard of this house. Presumably it's not really their yard, but actually public property, but I really didn't feel like testing that theory and seeing if they minded me walking through. One thing to note here is the construction vehicle. It seemed like each property had its own steam shovel to rip up the hill side.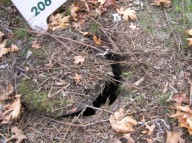 West Marginal Way is really a desolate place. It almost became my grave! I was walking in a grassy spot at the intersection with Highland Park Way when suddenly the ground gave from underneath me. I heard the sound of metal-on-metal and quickly pulled my weight off of my stepping foot. I moved aside and looked back, to find that a sewer manhole cover had cantilevered off of its hole, opening up and ready to let me fall in. I called this in to the utility company immediately.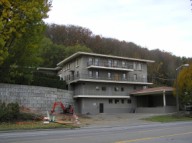 Along West Marginal Way, there is a very questionable building. Across from factories and warehouses, nestled at the bottom of the West Duwamish Greenbelt, a Spanish villa rises defiantly. What is the story behind this new structure? Is it headquarters to some as-yet-unheard-of cult? Perhaps it's home to a longshoreman who won the lotto and loves port and anchovies? With no signs and no one in sight, it refused to yield any answer.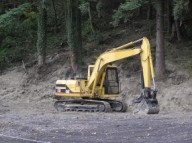 Just up the street, a dumb property owner tries to extract more usable space from the hillside. Not only does he have no love for nature (see the damaged trees), but he also has no respect. The slopes on the east side of this hill exist in one of three states: 1) slumping, 2) sliding 3) deceptively peaceful. Someone needs to set up a camera so we can watch in fast forward and see his precious industrial space get wiped out.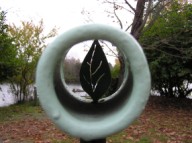 The Port of Seattle and the City of Seattle have a series of nice parks strung along the western bank of the Duwamish. I never knew because the area is so uninviting and inaccessible. Strangely, they're also not present on any commercial maps that I can get my hands on. That includes MSN Maps, Yahoo Maps, etc. I've contacted City Parks and Pork Parks about it to see if we can fix this problem. Because there are some nice features, like this telescope with a leaf in the middle.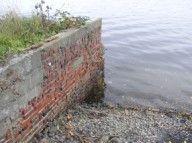 In the same park, an old brick foundation juts out into the water.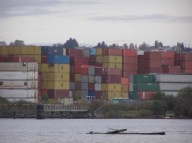 Containers on the opposite bank present a colorful assortment of paint schemes.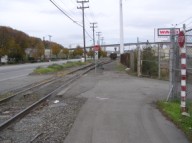 The bike path running along West Marginal Way comes to an unceremonious end. Seattle Department of Transportation folks have been working on finishing this path up to the West Seattle Bridge for quite awhile, but there have been some road blocks so to say. By now you're probably wondering why I was walking so far on West Marginal Way. Well, I thought a road went through up the hill on the map, but in reality it doesn't. I had to decide between walking back to Highland Park Way, and walking to the Harbor Island Bridge and looking for a bus stop. I ended up walking all the way to 1st and Spokane before I found a bus stop, and boy was I tired!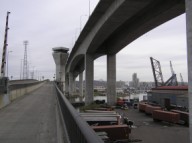 Harbor Island Bridge crosses below the mammoth West Seattle Bridge. There's a staircase up ahead leading down to ground level. Unfortunately its base is in the middle of a lot filled with semis and industrial material. You don't even notice the stairs from ground level, and if you do it's tough to find a safe way to get there.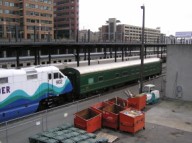 A special weekend day at King Street Station brought Sounder, the Cascades, a Colorado River sleeper car, and the American Orient Express.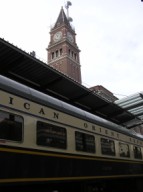 Shot of King Street Station's tower and the American Orient Express. I was especially pleased to see a few families walking back from the International District to the train after frequenting a local business.