On 6th at Royal Brougam (Seattle)
'Concrete jungle' indeed. Rising out of hard-pack dirt and gravel, towering over weed underbrush.
This is part of the special feature Freeway Box, showcasing my old life next to freeway viaducts.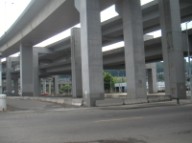 Looking east from 6th, a forest of freeway supports rises to fill the sky. Slivers between them reveal raised roadway structures stretching into the distance.
This is my image of freeways.
Most people experience these ramps by judging how much faster than the posted limit that they can safely go.