Express Exit (Seattle)
Express lanes dive into the bus tunnel
This is part of the special feature Freeway Box, showcasing my old life next to freeway viaducts.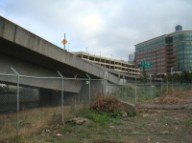 The I-90 express lanes come to an end by diving into the bus tunnel and linking to 5th Ave S and S Airport. It drops low behind the INS Building and Salvation Army. These shots are taken near PFI, a great Italian grocery store tucked down out of view from the street.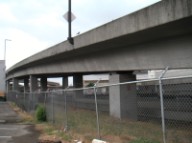 I was attacked by this crow. If you look behind the chain link fence and barbed wire, you'll see Salvation Army uses their abutting property for truck storage. Considering the number of beer bottles I saw, the barbed wire is pretty ineffective.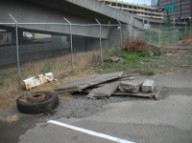 There's a heirarchy of utility for land near and under freeway ramps. Somewhere just below parking is 'land fill'. This property owner found some nice slabs of concrete and a rusted wheel, and knew she had a good place to store it. Who knows when you'll need a rusted piece of white painted steel? Just toss it next to the freeway! It'll actually make the place look better.