Park or Parking? (Seattle)
A nicely kept corner park.. or corner parking?
This is part of the special feature Freeway Box, showcasing my old life next to freeway viaducts.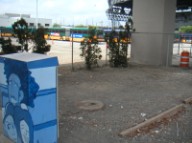 On the southwest corner of Bus Way and South Royal Brougham, a space has been carved out of the Metro base, on the public side of chain link fences. The utility box has some cool art painted on it. There are some feeble shrubs trying to hide the fence. The hard-packed gravel needs to be dug up so that flowers or something can grow on it.
But wait! Three pieces of wood are lined up along the sidewalk. It can't be! Yes, folks, there are three parking spots for some reason on the public side of the Metro lot. My guess is that this is where the contractor management parks. Metro is building a multi-storey parking garage just off to the left, visible in some of my other photos. It's nice that they merit such well kept parking spots. Maybe someone will stick a bench in here some day so that homeless folks coming back from the liquor store can take a break and sleep off their vertigo.