Seattle Wheels - Trains (Seattle)
Review of trains in Seattle.
Rail transit in Seattle is currently limited to Amtrak's Cascades, Coast Starlight, and Empire Builder. In the works are Sound Transit's Sounder commuter rail and Link light rail.
Sounder is one third of the Sound Transit regional transportation package in Snohomish, King, and Pierce Counties in Washington State (the other parts being Link light rail between the University District and Sea-Tac airport [for now], and express buses). It will eventually go from Tacoma to Everett; currently stations are under construction between Seattle and Tacoma at Kent, Auburn, and Puyallup. Other stations will be built at Boeing, Tukwila, Georgetown, and maybe a few more locations in the south. Service north of Seattle will take longer because they need to resolve environmental impacts on shorelines where rail line improvements are necessary, and they need to have the tunnel under downtown Seattle approved for frequent commuter use (it has no ventilation systems or fire control systems because it is so old). Regardless, groudbreaking at the Everett Station (which is part of a larger construction project) will be on July 13th. Service to the South will begin full-time on September 18th of 2000. The Tulalip Nation and the city of Marysville have shown interest in having Sounder extended north to serve them as well.
Sound Transit has announced that Mariner Trains will continue on Sundays until September.
In Action: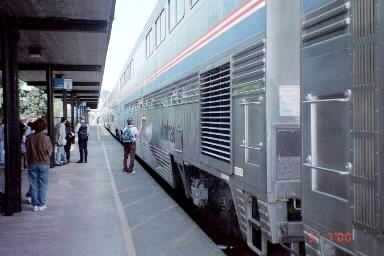 I decided to take Amtrak down to Tacoma for one of the Mariner Sounder trips. This is the Coast Starlight, ultimately headed for Los Angeles. I'd only been in King Street Station for late night arrivals of the Cascades runs from Vancouver and Bellingham, so I was surprised at the hundreds of people in the station.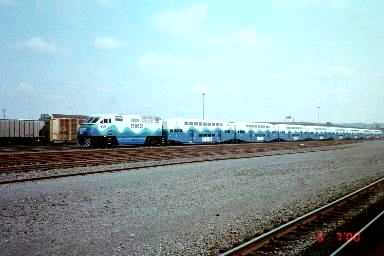 Sounder pulls in from the north, led by engine 906. We're going to be pushed to Seattle. For the Mariner runs Sounder used the Amtrak station in Tacoma, but in the future they will use a dedicated Sound Transit station, which will serve both the Tacoma Link light rail and Sounder. Last I heard, they were still trying to work out the logistics of how they will get to the new station. Apparently the track they have planned run on belongs to Tacoma Rail, and they haven't worked out contractual issues. There is the possibility that they will renovate some line that belongs to Northern Pacific and run on it instead.. I'm not clear on the details of the issue.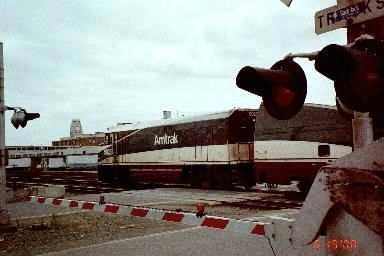 Cascades crosses South Holgate.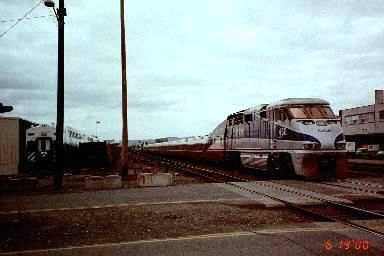 Crossing at the same spot. It's not being pushed by a normal Cascades engine.. the trains used in the rest of the Pacific corridor are blue and silver like this one; imagine all of the Talgo cars done in this color - that's what the new LA-LV line will look like that is supposed to start this September.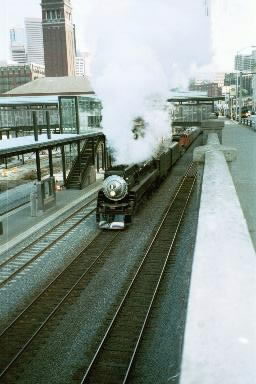 BNSFEAS 4449 comes past King Street Station.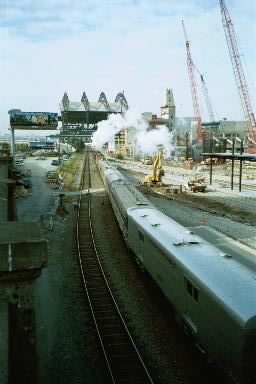 4449 heading towards Safeco Field. Platform construction workers stop to take pictures of their own.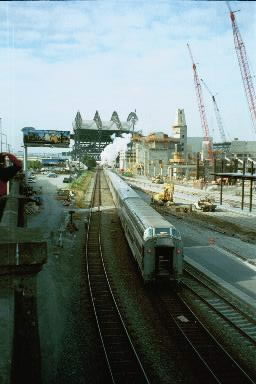 4449 continues towards Safeco Field.

Amtrak and Sounder passenger cars get pushed by a BNSF locomotive.
Stations and Facilities: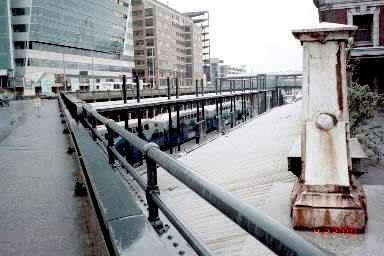 King St. Station from 2nd Ave Extension. On the left are new office buildings owned by Paul Allen's real estate holding company Vulcan Ventures. Just out of this picture to the left is Union Station, which Paul Allen renovated and sold (at a big loss - $23 million, only the cost of renovation) to Sound Transit to be used as their headquarters. There has been some questions about whether it is really cheaper for them to buy this than continue to rent office space, and maybe it isn't. But it's a beautiful building, a historic transportation building, they got a steal of a deal on it, and it's a perfect location for Sound Transit. Just on the other side of Union Station is the bus tunnel's International District Station, which will be converted for use by Sound Transit's Link light rail in 2006.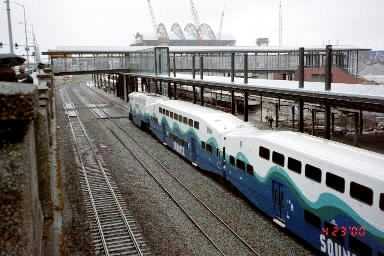 From 4th Ave (north). Amtrak Cascades Mt. Olympus is on the opposite side of the platform from Sounder, Mt. Rainier on far right. It's raining hard! Safeco has the convertible up, you can see some Kingdome rubble in the background to the right.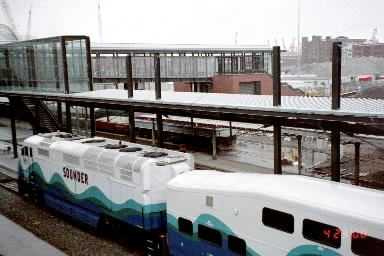 From 4th Ave (mid). Mt. Rainier visible on far track. To the right is more Kingdome rubble. Have I expressed how excited I am about Sound Transit's location here? Above I pointed out Paul Allen's new office buildings. If you didn't know, Paul Allen with his company First and Goal bought the Seahawks, who will be playing in a new stadium where some of that rubble is in 2002. What's interesting is that the Kingdome's north parking lot, which is adjacent to King Street Station, will no longer be necessary due to the construction of new parking garages for the stadiums. Instead, King County has contracted with Paul Allen's (!) Vulcan
Ventures to build a new neighborhood in its place. These new buildings will be many stories tall, with retail on the first floor and condos or apartments above. Imagine how convenient it would be to live here in 2006, with Sounder and Link just a couple of blocks away.. if you were a sports fan it would be like heaven. Paul Allen may have started more than he intended, though. Among the non-Paul Allen construction is a new office
complex that is in the design stages which will go up a few blocks West of the new stadium. First and Goal is concerned about loss of view from the still unbuilt stadium, but planners say the tall buildings will be skinny enough to not affect the entire view. The complex will provide much needed space for high tech companies in downtown, and many of the prospective tenants wrote a letter to the city saying that they would be forced to
leave the city if it wasn't built. One of those companies was Go2Net, which Paul Allen owned 49% of at the time (it has been 'bought' by InfoSpace in a stock swap, so now Allen owns part of that company)... figure that out! In this corner, Paul Allen.. in the other corner, Paul Allen.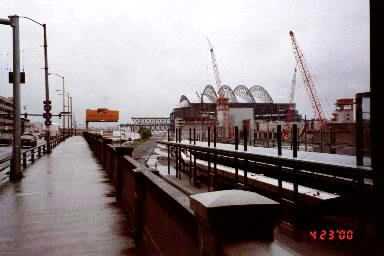 View from 4th
Ave (south). Mt. Olympus is visible.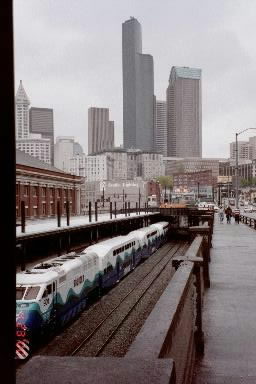 From 4th Ave towards downtown (south)
Amtrak
Mt. Rainier. The Cascades line uses cars from the Italian company Talgo.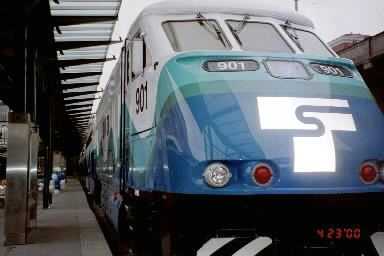 12 Sounder waiting for the ballgame to end. This was the first run with paying customers(??), 8th total (??). After driving up from Tacoma, Sounder sat waiting to take its passengers back.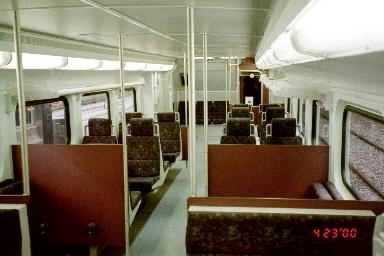 First floor. In the foreground, fold up seats make room for 2 bikes each or one motorized wheelchair. Just to the right is a stowed fold-up ramp for wheelchairs. The ramp is actually a bridge, as it will go more or less horizontal from the far left entrance of this car to a raised area of each station. This will save significant time and money over the hydraulic lifts that many systems, including Metro buses, use. There is a dedicated bike area next to the far left entrance with 2 more securing straps. Most Bombardier cars are not equipped with overhead racks. The Bombardier representative who kindly let me in and showed me around expressed dissatisfaction with the clear plastic ends that will attract dust and lint through static electricity, and with the height and signage of the overhead racks. He said that there has been a problem with people hitting their heads already. I guess it will be resolved by riders getting used to it, padding or indicative painting and signage, or liability lawsuits! Or all of the above!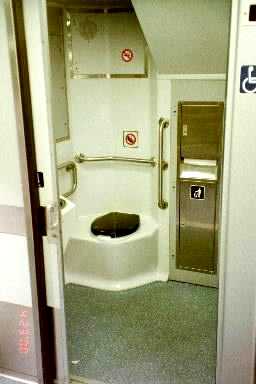 Bathroom. Spacy and approved for wheelchair users.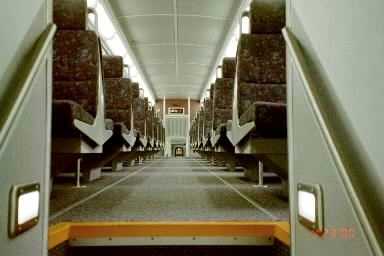 Top floor. There is a small intermediary level, then this large upper floor. Some seats have small tables with power outlets for laptop users.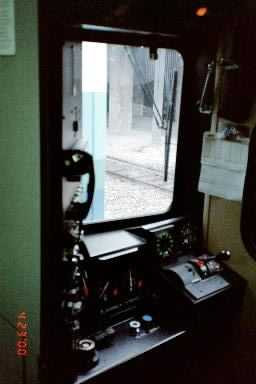 Controls.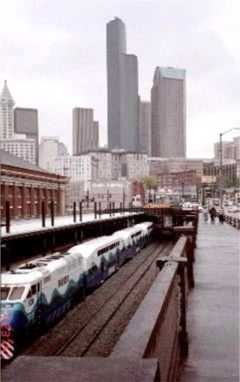 View from Yesler over 4th Avenue. The tower is King Street Station; trains run in the chasm between it and 4th Avenue.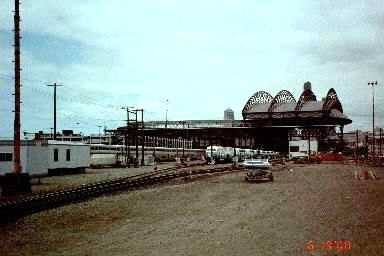 Amtrak/Talgo yard in the foreground, Safeco Field in the background.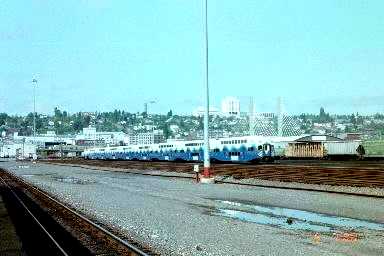 Sounder with cargo cars behind it, and the
north end of Tacoma.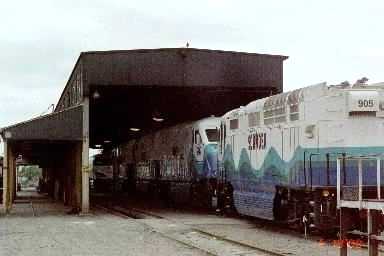 Sounder engines and cars sit in the
black Amtrak building currently on loan.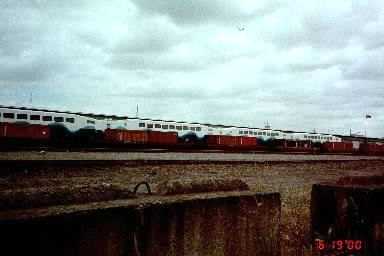 Sounder
cars hide behind open frieght cars filled with recyclables (?).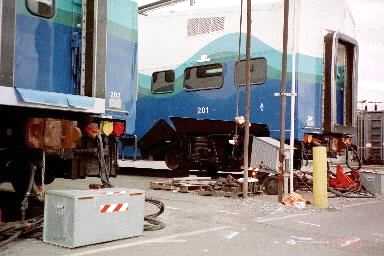 Sounder cars having their wheels inspected.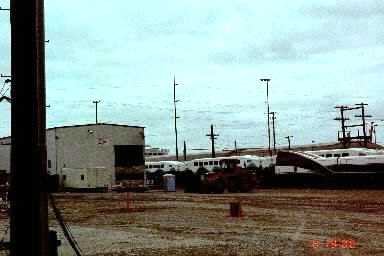 The Talgo building
in the Amtrak yard.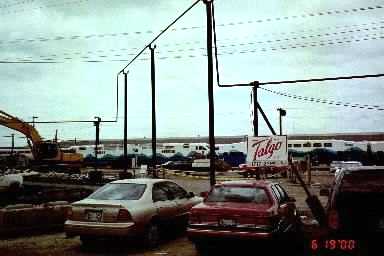 Talgo sign in the Amtrak yard.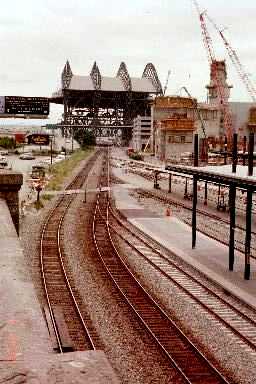 Tracks heading south from King Street Station under the Safeco Field roof.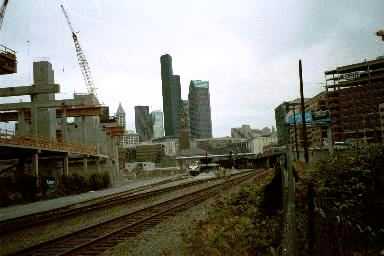 Looking north up on King Street Station and the new football stadium construction, from the path next to the I-90 on ramp.
Freight: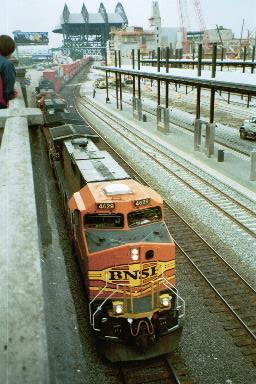 BNSF freight
heads north past King Street Station just before 4449's arrival.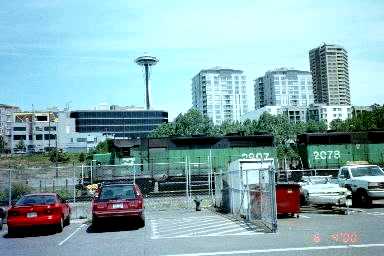 Two Burlington Northern engines run north past Myrtle Edwards Park.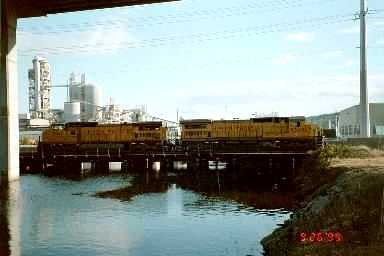 Union Pacific engine going under the West Seattle Freeway to Harbor Island.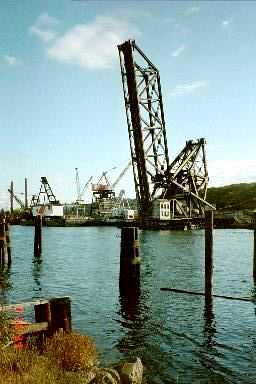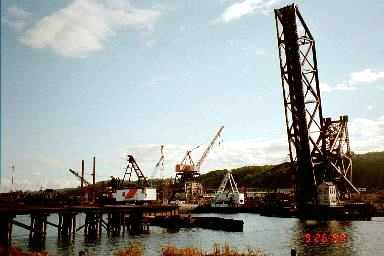 Historic train bridge to Harbor Island.