Streetcars of the Future (Seattle)
Seattle's got a bunch of streetcar plans, here's a short review.
I have no illusions that everything planned or discussed in Seattle will be created. I'm rather confident that things under construction will be completed. So let's start at the most likely and work our way down. You can check out a map I made with Windows Live Maps.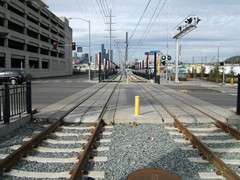 Sound Transit's Link Light Rail has been under construction for several years, and opens in 2009. This looks north from Lander Street. Lander Station is just across the street on the right. Nearby is the Forest Street maintenance base, which I profiled in 2003. This is in the SODO neighborhood, which already has completed track from the base to the downtown transit tunnel. Testing began with trainsets the day before I took this photo, but unforunately I wasn't able to spot it.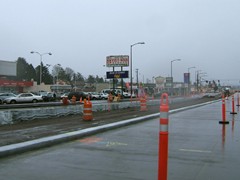 Another shot of Sound Transit's Link line, on Martin Luther King Jr Boulevard in south Seattle. MLK has been ripped up for four or five years now, first with utility relocation and wire undergrounding, sidewalk reconstruction, roadway reconstruction, and now finally it looks like they're getting ready to lay the rail bed. Technically Link isn't a streetcar, but don't tell that to your average joe. Dedicated lanes are at-grade from downtown to the south end of Boeing Field. Heck, even that kind of description is splitting hairs too much. A whole bunch of relatively intelligent people, including the Blue Scholars, call it a monorail for pete's sake.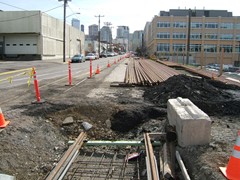 The City of Seattle, with the help of funds from surrounding property owners, is building a streetcar from 5th and Westlake to the south end of Lake Union, where a major new park will be built soon. Construction started last year, and it should be running by this fall. They learned from Portland about quick construction by only doing shallow work. Because it's smaller than light rail, it can be much less invasive. This shot is on Terry Avenue at Fairview, looking north towards downtown. Just a small piece of track has been laid here, with old freight track to the left, old street bricks ahead, and new rail waiting to be installed.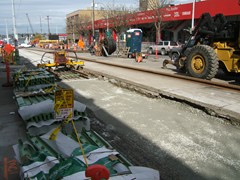 Another shot of the South Lake Union Streetcar, on Westlake near Fairview. Track is completed to the south, and all sorts of construction equipment can be seen in use. It's unforunate that they're not reusing the old brick as a bed for the rail, and instead are using concrete. Pioneer Square (below) looks beautiful with brick. I guess it makes a bigger difference to neighborhood atmosphere in Pioneer Square, though.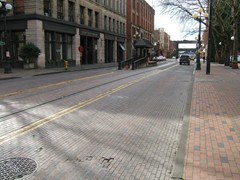 Along Seattle's waterfront, and inland to Chinatown, stations and track for a streetcar lie unused. The George Benson streetcar (archival link provided by archive.org) ran for just over 20 years before being shut down. The impending replacement of the Alaska Way Viaduct provided the catalyst, but the decommisioning was precipitated by Seattle Art Museum swiping the car barn's land for the Olympic Scuplture Park in 2005. Tough to run a streetcar when there's nowhere to park it. We'll see how long the wires stay up until enterprizing citizens reappropriate them for "recycling" to China.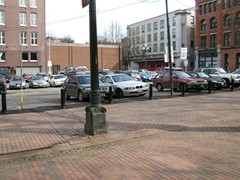 The City (who built the Waterfront Streetcar line) and County (who operated it) intend to reopen it at some point after the Alaska Way Viaduct is done... maybe in the 2020s? They could reopen part of the line sooner, by building a new car barn on the south end. In fact, the plan is to put it here, currently the site of a parking lot next to Occidental Park in the Pioneer Square neighborhood. The site is owned by Greg Smith, who came forward when Seattle, King County, and the Port of Seattle couldn't find a new home for the barn. His new building, "Trolley Tower", is tentatively scheduled for completion in 2009, and will house the barn on the first floor, possibly a cafe with window views into the maintenance facility, and apartments or a hotel.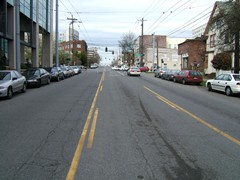 This fall, Puget Sound voters will decide whether to approve phase two of Sound Transit, which contains a new streetcar line connecting King Street Station and the International District with First Hill and Capitol Hill. Basically, Sound Transit screwed up. From early days, a deep light rail station was planned at First Hill. Recently they decided it wasn't economically or technically feasible. Rather than skipping some of the densest residential and hospital uses in the state, a streetcar line will run up Jackson, 12th, Boren, then Broadway to John Street. Will voters approve the package? Bigger question, will a streetcar line really get built? In most of the literature, it's presented as a "streetcar or bus", so it seems to still be up in the air. Truth of the matter, it's annoying to get from King Street to Capitol Hill by bus. It's literally faster to walk some times. Could they lower costs by renting car space from the City? Will they have to put the barn in SODO on Airport or 6th somewhere?
There are a couple of other possible plans, which can be read at the City of Seattle's streetcar site. If Sound Transit builds the First Hill connector as a streetcar, there might be a chance of continuing the tracks up Jackson to 23rd, as the community has long hoped for. And if some money appears from a pork barrel, or Seattlites go nuts for streetcars, the SLU streetcar could be extended to the UW. There's even been talk at times of continuing the Waterfront Streetcar up through Interbay to an endpoint near Ballard.
Who knows how much of it will end up built, but there's definitely more streetcar activity afoot in Seattle than any time in the last 80 years or so.