Depressing Development (Seattle)
My prescient feedback on a misguided apartment development, plus before-after photos.
A few years back, I sent feedback on a new apartment building under planning review in my old neighborhood, Seattle's International District. A friend had seen the comment period notice, and shot me a "have you heard..." mail. After going to Seattle's Department of Planning and Development office to review the schematics and studies, I was disturbed at what I saw and sent my first (and last) feedback on a private development.
My feedback was ignored. The long-time property owner (Chinese, if that matters) was inexperienced at best, and uncaring at worst. They'd never developed, and one of the pre-existing buildings was empty for decades. A cynical person would say that the neighborhood only matters to them as long as they can make a living off of it. The firm they hired was uninspired at best, and uninterested at worst. Their research was incomplete or wrong, their designs were out of place, ugly, and made cheap shortcuts at the expense of character. That cynic would conjecture that they were underpaid and worn out by neighborhood politics.
The real tragedy is that the neighborhood has design standards, and is a historic district. Unfocused or self-serving leadership has consistently failed to address livability issues in the International District. Energy is put into business profitability (addressing customer needs) and liberal hospitality (caring for elderly, non-English speakers, and poor), but not to making the place a good spot to live.
So that's the background. Here's the letter, with a selection of photos.
--------------

October 7, 2004
I am submitting comments on project #2404071, located at 705 South Weller Street.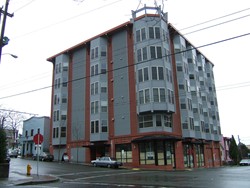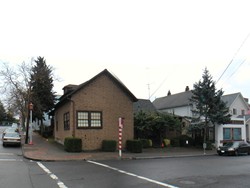 I'm very pleased to hear that there will be 36 units of additional housing, 1200 square feet of additional retail space, and continued redevelopment around Children's Park.
Although it lies just across the street from the edge of the Chinatown Historic District, it is really located at the center of the redeveloping east end of the Chinatown area of the International District. Its position will allow it to have a strong positive impact on the growth and direction of the neighborhood. Young students of Chinese at Chong Wa will sit in their class room, looking across the street at this project. For those coming from outside the neighborhood, the Weller facade could become a strong early impression of Chinatown/International District.

After reviewing the project folder and site plans at DPD's office, I have a few items that I hope can be improved.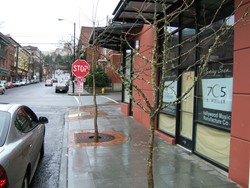 1. Add street trees. The schematics for the final streetscape show that three pedestrian lights will be added while the two trees on Weller will be removed. The lights are welcome, but the project should be adding street trees on Seventh and maintaining the trees on Weller. The Mosaic Apartments project at Seventh and Lane added eight trees, and this trend should be continued with future developments.
The reduction in green is actually more drastic than indicated by the loss of two street trees. Currently there are two more trees, three shrubs, and two strips of grass on the Weller frontage, with an additional two trees and seventeen shrubs on Seventh. The vegetation is well cared for, resulting in an attractive edge along the sidewalk. It's significant enough that many people probably don't notice that the home on Weller is abandoned and hasn't been occupied in decades.
In our neighborhood, every bit of green helps. Most buildings are built to the property line with no vegetation, and few businesses have taken ownership of tree cuts or added planter boxes to grow flowers. Not many residential buildings have offered plants at their entrances to make them more attractive. It's extremely disappointing that the building couldn't have a strip of planting, such as that at International House, incorporated into the design. Hopefully this can be reconsidered, or attempts can be made to add hanging plant baskets or other elements.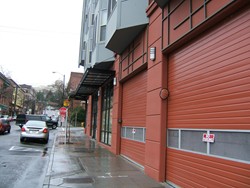 2. Avoid garage doors on street fronts. Two garage doors will be included on the south end of the west face on Seventh Avenue South, leaving 32 feet of blank facade. It's confusing that two doors are needed to access a garage that only holds 13 cars. How often will there really be cars entering and leaving at the same time?
I was unable to find an explanation for why the garage entrance wasn't included on the alley side of the building. Was the building designed before the alley's legal status was clarified? Strangely the alley facade is also comprised of two garage doors, one 18 feet for two spaces, one 22 feet for seven spaces. The 18 foot door sits opposite the Seventh Avenue garage entrance, and seems a good candidate to replace it. This may allow for additional retail though it would eliminate two parking spots.
Although the ID Special Review District guidelines do not specifically mention blank walls, it is commonly accepted in the design community that blank walls are unattractive and detract from the pedestrian environment. Garage entrances fit under the definition of blank walls. Action should be taken to avoid blank walls along street frontages of developments. In this case, garage entrances should be placed on alleys wherever possible. In addition to the impacts on the neighborhood, the developer should consider the impact on attractiveness of the adjacent retail space.
I'm very worried about setting a precedent for putting garage entrances on street frontage when opportunities exist to put them in alleys.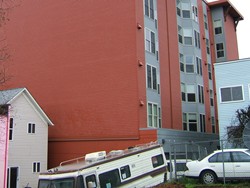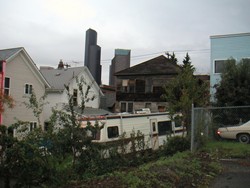 3. Improve appearance of south facade. The entire south facade, six stories tall, will be metal siding. With two 2-storey buildings next to it and then a park, this facade will be visible from several blocks away. Perhaps the developer has access to undisclosed plans to rebuild the neighboring property, but even if there were such plans it would have to be many years away. Until then the neighborhood would benefit from a better design, perhaps a mural or other element.
This will dramatically alter the experience of Children's Park. Currently the two-storey duplex adjacent to the park is mostly shrouded by trees. Office towers of Seattle's downtown skyline jut up from behind at a distance, creating in the park a refreshing feeling of relaxation while the world continues to toil. The plan for the south facade will introduce an uninspiring wall of siding, likely colored beige or gray. I hope a better face can be shown to the park.
4. Mitigate loss of 'Asian character.' Section II. G. of the Special Review Board guidelines indicates a desire for elements exhibiting the Asian character of the district to be included in developments. Examples given are calligraphic signs, lattice work, and tiled canopies. The addition to the existing property at 606 Seventh Avenue South has elements attempting to address the issue of Asian character. In fact, the porcelain lattice squares on 606 appear to be the inspiration for Mosaic's confusing square steel lattice. The false tiled canopy roof is reminiscent of many found in Vancouver's Chinatown, though this one is much smaller in scale.
Despite the existence of Chong Wa to the site's immediate north, and the building kitty-corner to the site, the new building seems to have no attempt to address the issue of 'Asian character.' The bay windows do reflect characteristics of some older neighborhood buildings, but really this is being revived throughout the city and isn't indicative of our community in particular.
Hopefully elements can be added to this project that are more clearly of Asian origin, and not passing through artistic filters which render them meaningless such as happened with Mosaic and the office building at Fifth and Jackson.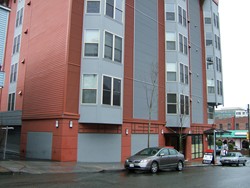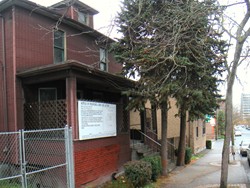 5. Consider impacts of new use. Presumably the current gate was added on Weller at the end of the alley because home owners were trying to stop members of the public from heading down the dead-end alley. Will fencing be provided at the end of the alley? Will there be an indication that the alley is not a through road? If dump trucks are used to remove waste, this will add considerably to the noise for the three neighboring buildings. Will elements be added to the buildings to reduce noise reflection in the alley? What other impacts will the building introduce to the surrounding low residential uses?
6. Consider addition of curb bulb. The complete replacement of the sidewalk at the corner of Seventh South and South Weller presents an opportunity to rebuild the curb line. Bulbing the curb should be seriously considered in order to shorten crossing distances for pedestrians. With ID Village II, Mosaic, and now this project, pedestrian traffic will continue to increase on the east end of the Chinatown area. We should take advantage of opportunities to improve conditions for them.

I had a few additional concerns about the transportation study included in the file. I agree that this project will not have large transportation impacts, and I'm glad that the developer feels that the majority of residents will walk or use public transit and there is demand for carless households. There were a few mistakes, however.

The transportation study erroneously indicates that there are no bike facilities near the project, while in fact Dearborn has bike lanes. Also, the parking analysis only evaluates existing conditions, without considering plans to convert free street parking to metered parking, or what effect the addition of monorail and light rail will have on parking demands. Finally, there are odd statistics used for modal split. The report on one hand states that it is believed that no residents of the existing rental properties own cars. I find that believable, because I walk my dog past these properties daily, and haven't seen the same vehicles in the same spots on a daily basis. However, it then goes on to use PSRC residential property statistics to determine the modal split, which shows that 34% of trips are by car, therefore 10 per day. That doesn't make sense if no one owns a car.
In closing, I would like to reiterate my excitement over the construction of 40 market-rate units and several moderately-sized ground level retail store fronts. As a neighborhood resident and property owner only a block and a half away, I look forward to the infusion of energy into the community. I hope that my comments are found useful and add to the hard work by the developer and architect.

Sincerely,
Rob Ketcherside