Yesler Terrace (Seattle)
This brief walk starts at the Nippon-kan parking lot on the west side of I-5, then crosses Yesler and heads down through Yesler Terrace, and ends under the freeway on Jackson.
This is part of the special feature Freeway Box, showcasing my old life next to freeway viaducts.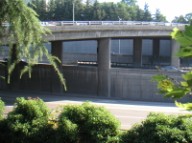 First, a view through the foliage of Yesler arching over the freeway.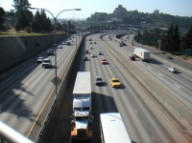 Crossing Yesler gives you a great view of I-5's 15 lanes.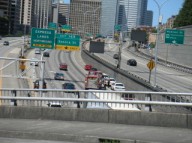 A couple of years ago I captured this birds-eye view of a multi-car accident looking north from Yesler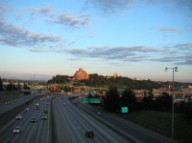 And here's a view of a beautiful sunset cast on Beacon Hill - just don't look at the bottom half of the photo.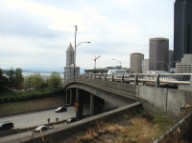 Looking along the south edge of Yelser from the east side.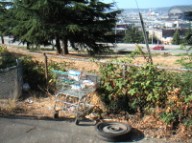 Walking through Yesler Terrace, you begin to appreciate the psychological effects of the freeway's dead space. Here, the corner of this road has attracted a wheel and a shopping cart. There is always stuff dumped here when I walk by, and often behind the fences. Seattle Housing Authority must pay quite a bit to haul junk out.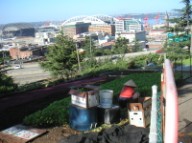 Yesler Terrace has made great use of the south hillside, creating a community garden for residents. As with the Danny Woo Garden across I-5, most gardners are aging Asian immigrants.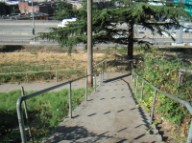 And now for the start of the scary part of my trip. Normally the steps from Yesler Terrace are crowded with sketchy characters. I got lucky that on my photo trip there were none. This is a vital link between Yesler Terrace and the grocery stores in the International District. At one point last summer, young hooligans were charging a toll for elderly women to pass. In the spring, police shot and killed a man when he pointed a gun at them. It brings new meaning to the phrase 'dead space.'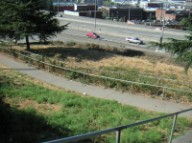 Progressing down. Luckily there is a fairly clear view of the walkway from above, and usually people hang out right on the concrete. When I'm walking my dog, I'll detour to 12th if I don't like the looks of things. My dog loves walking over here for some reason on the weekends.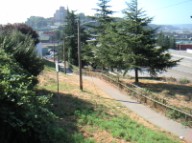 Further down. Bushes on the left could conceal hiding thugs. Usually they are used by harmless homeless people as makeshift camps. I'll be honest, I often can't tell if they're drug dealers or just homeless or maybe residents in SRO housing who are just hanging out. I know it's a mix of those groups and others, but from person to person it's tough to tell.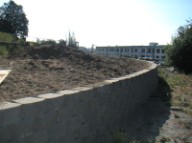 This retaining wall with planting soil was added a few months ago to remove some of the flat ground that people would hang out on. Now it's being used as a nice sturdy base for ad hoc homeless shelters.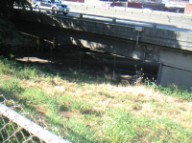 This grassy area was recently chopped down. Every few months it gets overgrown with ivy and bushes and tall grass, and homeless move in to take advantage of the easily accessed spot. It's WSDOT property, but they have a whole state of freeways to manage. They come by every once in awhile and clean out tons of garbage and chop everything back. In the meantime, Seattle Police have permission to enter State land in pursuit of suspicious people - usually they have a dozen or two to choose from.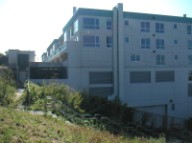 This is the back side of Pacific Rim Condominiums, with a spur staircase to their emergency exit. It provides a great place to set down a piece of cardboard to sleep on, or to assemble a lean-to against the railing. Pacific Rim is a real shame. Only the second condo building constructed in the International District, but the best units have nice views of the freeway, apparently without proper insulation. The worst have a view of the empty SHA lot behind them, homeless sleeping in the bushes at the bottom of Yesler Terrance, and dealers on the steps. The retail spaces under the condos seem successful, but most of the condos have never sold.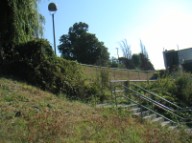 Here's a view of the empty SHA and SDOT land protected by a simple fence. There's street right of way, and some surplus land. SHA will soon redevelop Yesler Terrace, and hopefully they put all of this land to good use and have a side effect of putting more eyes - and feet - on the steps and create demand for Pacific Rim. Maybe we'll get lucky!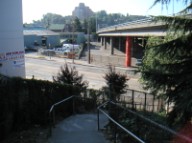 The final stretch of steps down to Jackson.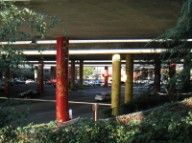 Three raised roadways span over Jackson and King. Lane, Weller, Main, and Washington are all blocked. At Jackson, money in the 80s was secured to paint the supports yellow and red with carp patterns. Dirty grey concrete is not the image most people have of Chinatown, and it doesn't fit our International District either. This is one of the best freeway beautification projects I've seen. There has been desire to paint the underside of the decks, and to paint the supports on King, but so far the neighborhood hasn't gathered enough energy to get the job done.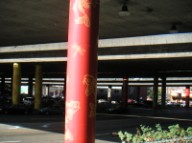 Close up of koi and dragonflies.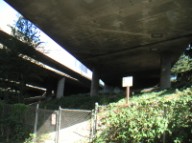 Looking up to the northern underside of I-5 on Jackson. Both here and on the opposite side on King, homeless lay their cardboard and blankets to keep dry.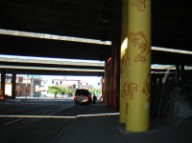 Bus stopped on the north side of Jackson along supports. Do you get the scale of this yet?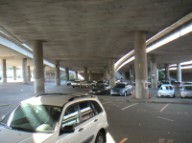 Neighborhood activists secured use of the empty land under the freeway as parking, with revenue helping to pay for neighborhood improvements like low-income housing, the community garden, and streetscape work.