First encounters (Seoul)
Some impressions from my first trip to Seoul.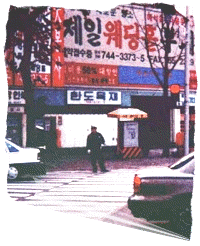 In Seoul I walked and jogged for six hours from one side of the city to the other. What an amazing experience. I saw more in one evening than if I'd taxied or trained for weeks. In this picture, a police officer idles at the end of the crosswalk. Behind him a utility box with a yellow and red roof houses a switch to change signal directions, which he changed every few minutes. Seattle's few traffic control officers only work events, but this seemed to be a daily occurance at this busy intersection. Rush hour must be tough in Seoul... I often found myself walking faster than traffic, including all the way across one of the many bridges spanning the Han river.
Notes jotted down after returning:
The only bicycles that I saw were expensive, serious mountain bikes, like Seattle
Dirt cheap, simple, fast subway
Day market
In general, the city is completely different north (old city) and south (new, replanned city) of the Han river.
High-end shopping district has very fancy steel and glass station entrances; normally plain concrete (good: uniform, easy to recognize, bad: unattractive.. probably not a bad idea to focus money in retail areas)
Pedestrian underpasses under some major intersections in new part of city, pedestrian bridges in old
Police at junctions to control lights manually in the north
Scooters, motorcycles on sidewalks in the north (including police!) (in front of national guard!)
Parking between storefronts and sidewalk in south. Cars enter from the corner or driveway, drive up sidewalk. Parking is only the depth of the car; when no cars are present, seems like a wide sidewalk. Some stores, especially restaurants, had people outside directing cars in and out.
Artisans using sidewalk space to assemble furniture, weld, paint plastic motorcycle body parts in north
Noticed automated wheelchair lift in a subway station in Seoul; colleague mentioned that in Japan it takes 3-5 station attendants to operate them; I've seen station attendants carrying a wheelchair up stairs in Japan
The only public transit is bus linking the airport and downtown. Easy to understand system of buses operated by Korea Airlines to destinations throughout the city.