Anatomy of a Bus Stop (Tokyo)
Digging into a Keio bus stop.
There are several private and public bus companies in Tokyo, and each have their own bus stops. Here I disect a stop belonging to Keio Bus Lines.
Keio Bus Lines is part of a corporate group including Keio Rail, Keio Department Stores, Keibundo Book Stores, Hachioji-Kamikawa Reien (a massive cemetary in the mountains), and many other companies. Keio operates exclusively in the western part of Tokyo prefecture. Some of the trains from the Keio Line and New Keio Line continue on the Toei Shinjuku Line subway through central Tokyo. Keio Group contains many bus companies, operating Highway, Local, Overnight, Tour, Charter, and Sightseeing buses. Only West Tokyo Bus and Tama Bus operate as a distinguishably separate unit, though.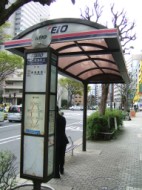 Overall view of the bus stop. Key features are the information kiosk, the overhead enclosure, and the bench. The enclosure features the Keio logo at either end, and protection from the rain but not wind. The stop is located across from Shinjuku Central Park, on Juniso Avenue.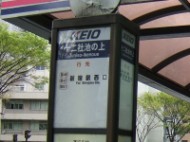 At the top of the information kiosk on all sides is basic stop information. Below Keio is the name of the stop, "Juniso ike no ue", or "Above Juniso Pond" - more about that in a minute. On the lower left are the bus route numbers that stop here. In this case, "Shuku 45", "Shuku 41", and "Shuku 51". Keio bus route numbers always are one character indicating the route terminus followed by two numbers. Shuku is the second character of Shinjuku. On the lower right is the terminus of each route, which happens to be Shinjuku Station West Entrance for all three routes.
It's worth taking a moment to discuss the name of this stop. Like many place names in Tokyo, this bus stop hints at a very different past for this neighborhood. Juniso (Jyuunisou) was a former nickname of Kumano Shrine (built 1403), which was built to house the twelve statues of Kishuu Kumano, and is now in the northwest corner of Shinjuku Central Park. Juniso is a corruption, but it's not clear exactly what the source was. Many stories exist, for example saying that it comes from "Jyuuni Souden" (Twelve Shrines), "Kumano Sanzan Jyuunisho Kongen" (Twelve Statues of Kumano Triple Peak) or "Kumano Sanzan Jyuuni Soushi" (Twelve Small Shrines of Kumano Triple Peak). Taken as it looks, Juniso means "Twelve Temples", but "so" is not a standard reading for the final character.
This area became a famous resort destination in the middle Edo era (early 1700s), with many waterfalls and ponds. There were pleasure boats, flower fields, fireworks, tea rooms and hot springs to enjoy. It remained a favorite leisure spot up until World War 2. In 1968 the "Great Pond of Juniso," by that point a series of water reservoir ponds, was erased in preparation for the construction of West Shinjuku, part of Tokyo's massive 1960s growth spurt. The reservoir was submerged into tanks and Shinjuku Central Park built on top. The neighborhood's name was even changed from memorable Juniso District to bureaucratic West Shinjuku District Number 4.
More information on Jyuunisou in Japanese, and a briefer summary of Jyuunisou with nice illustrations, again in Japanese.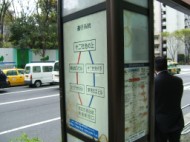 Below the stop information on the outside is a map of remaining stops on these lines. Facing away from the street is a map of the entire route with transfer information.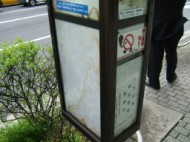 The bottom of the sign is for notices from Keio to their customers. A sticker asks folks not to smoke at the stop (which is illegal in Shinjuku now anyways), and a print-out alerts riders to increased anti-terrorism security.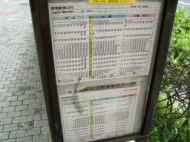 At the bottom of the sign on the inside of the stop is a time table. On the left is weekdays, then Saturdays, then Sundays and Holidays. Like timetables in train stations, each hour is represented by a row, and the minutes of departure are written for each hour.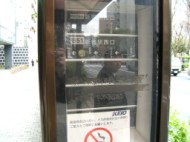 At eye level on the sign is a low-tech (by current standards) bus location indicator. A green bus appears between the previous stops to show where the next bus currently is located.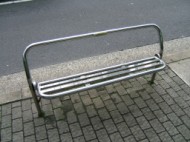 A functional bench is located curbside for desperate passengers to lighten their load.