Hot Doggity Doo (Tokyo)
A few more signs pleading for dog cleanliness in Tokyo.
This article is part of the special feature series Dog Doo Signs of Tokyo.
By the way, if you like these, you might also enjoy another discussion of dogs in Vancouver.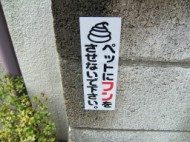 Spotted on a residential wall in Nakano, "Please Don't Let Your Pet Poo".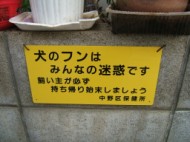 Found in Nakano. "Dog Poo Bothers Everyone. Owners must clean it up and take it home."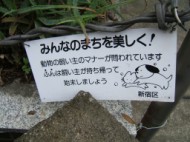 Spotted in Shinjuku, "Keep our town clean! We're asking pet owners to obey manners. Owners need to clean up poo and carry it home."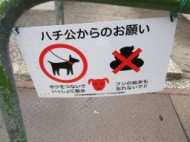 Found just across the border in Shibuya. Hachikou is a famous dog, with a statue commemorating him at Shibuya station. "Hachikou says... 'Please keep me on a leash and take a walk with me.' - 'Please don't forget to clean up the poo!'"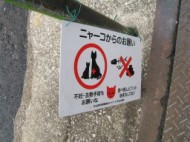 Next to the Hachikou sign was the only cat-oriented sign I've seen to date. They're just trying to be fair and balanced. "A request from meowzers: 'Please keep my shots up to date.' - 'Please clean up my poo and left-overs!'