Pedestrian Death (Tokyo)
Signs of a pedestrian fatality.
Recently a person was hit and killed while crossing this highway in Tokyo. There's a long wait, and a different signal pattern than most intersections. On either side of the street are subway entrances, and you have to enter on the side you're headed since there's no mezzanine. Apparently someone got impatient or wasn't quite awake, and ran out in front of truck just before 7 in the morning. Or that's the word on the street.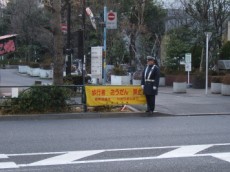 The banner asks people not to cross at this tiny road leading along the elementary school, but to instead cross at the adjacent cross walk. A traffic officer is sometimes stationed here at rush hour to whistle the signals and wave traffic on.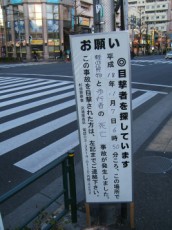 Since the walker can't tell their side of the story, the police have put up this banner. "PLEASE: Searching For Witnesses. At about 6:50AM on November 7th, Heisei Year 18, a light truck and pedestrian were involved in a fatality accident. Anyone who witnessed this accident is asked to call the number to the left. Suginami Police Department, Traffic Enforcement Division, [number]." Heisei Year 18 was 2006.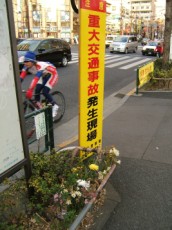 Another sign to draw attention and urge caution says "WARNING: Site of Major Traffic Accident". Below it are a few vases, refreshed with flowers even a few months after the accident. The victim most likely was a local resident on the way to work. I saw a middle aged woman replacing the flowers one day. I wonder if it was his wife, and if he has children?