Yanaka Street (Tokyo)
Yanaka Street Shopping District, fading away between JR Koenji and Nakano stations.
This is part of the special feature Merchants of Koenji, introducing the shopping districts (商店街, shoutengai) of Tokyo's Koenji (高円寺, Kouenji) neighborhood.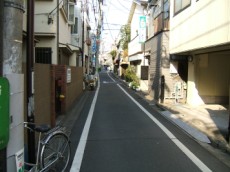 Yanaka Street Shopping District (谷中通り商店街, Yanaka Doori Shoutengai) runs north/south between the raised tracks of JR Chuo Line (中央線, Chuuou-sen) down towards Okubo Avenue (小久保通, Okubo-doori). It's nestled in a residential no-man's land between JR Koenji Station (高円寺駅, Kouenji-eki), JR Nakano Station (中野駅, Nakano-eki), and Tokyo Metro Higashi-Koenji Station (東高円寺駅, Higashi-Kouenji-eki).  To the west is a dense network of narrow streets, to the east are longer blocks of wider, perpendicular roads. Although Yanaka is a fairly narrow road, it's also a rare through street and good shortcut, so there's a fair amount of fast traffic, especially scooters and motorcycles.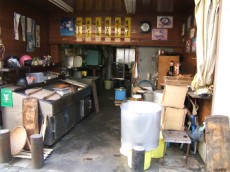 There aren't many stores left on Yanaka Street. This tofu shop from the south end is perhaps the only store that has been handed down to the baby-boom generation. Other than the two stores below, all I could find were a few restaurants, a newish tai-yaki shop, a bicycle/motorbike shop with an old man fixing a scooter, and a shudo and an ikebana instructor.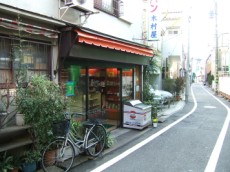 This is Kimura Bread Shop, a throwback pastry shop run by an elderly couple. Nowadays pastry stores have fancy European names, and feature mostly sweet breads and exotic flavors. In the good old days, from 15 to 40 years ago, bread shops had lots of fried, savory snacks, as well as lightly sweetened breads. I bought a croquet sandwich (コロッケサンド, korokke sando) for Y120, about a US dollar. A good, honest snack. The owner of the now-closed public bath (風呂屋, furoya) down the street highly recommended the egg bread (たまごパン, tamago-pan), so I'll pick that up next time.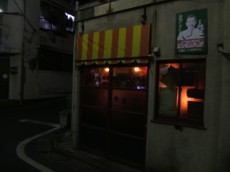 Another spot is Rock Bar Nebraska, a tiny bar at the south end of the street. The owner is well-known in some circles for sponsoring a series of concerts at a Shinjuku club. On one map for Nebraska, Yanaka is just labeled "small street", and the major landmarks, a public bath and an okonomiyaki shop, have both closed after decades of happy service. Nebraska is either out of place, or the only hope for addressing the business district to younger customers.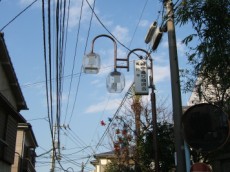 The Yanaka Street Shopping District certainly won't last more than another ten or twenty years if things continue on the current trend. They've lost critical mass with the closure of many stores over the last few years, and there are a few more that probably won't last much longer. However, they're still sticking it out. They've got the pedestrian lighting and signage that physically identifies a shopping street. They also do summer and new years festivals, and do them with style. All of the food and drinks are free, and anyone's welcome. Probably long after the stores are closed and gone, the long-time residents will continue on the behind-the-scenes activities that hallmark a Japanese shoutengai.