Southern Rise (Tokyo)
Name:
南部坂 なんぶざか
Nambu-zaka, Southern Rise
Location:
赤坂2丁目22番、六本木2丁目1番の間
Between Akasaka 2-22 and Roppongi 2-1
This article is part of the special feature Akasaka on the Rise. Check it out in my Live Maps Collection.
The official description: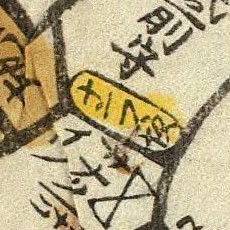 江戸時代初期に南部家中屋敷があったためといい、「忠臣蔵」で有名である。後に、険しいために難歩坂とも書いた。
Called this because at the beginning of the Edo Period it was the location of the Nambu ("Southern") family mansion, made famous in Chuushingura. Also, because of its steepness it was also called Nanpo-zaka, or Tough Walk Rise.
Unofficial explanation: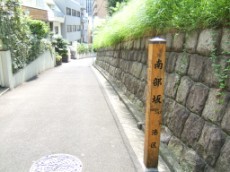 Southern Rise comes up from a starting point just north of Roppongi Avenue (六本木通り, Roppongi Doori). It runs parallel to <!a href="">Fukuyoshi Rise<!/a> and a bend after its peak leads to nearby Hikawa Rise. [Photo from top of the rise]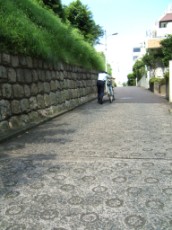 The alternate name, "Tough Walk Rise", is easy to understand. This security guard had to get off his bike and push it up the steep hill. It's a sixteen percent grade!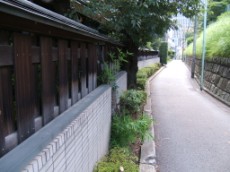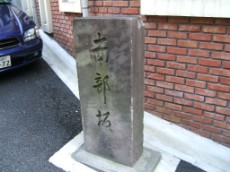 Chuushingura (忠臣蔵) is a dramatization of the story of The 47 Ronin (many titles, including 赤穂浪士, Ako Roushi, Ako Wandering Warriors; also 47 Samurai), a well-worn story in Japanese history. In it, a group of warriors take vengence for the forced suicide of their lord. The climax of the dramatizaiton is "A snowy parting of ways at Southern Rise" (南部坂雪の別れ, Nambu-zaka Yuki no Wakare), where they gather before they strike vengence. Although they're gathering after lying low for a year, it's called a "parting of ways" because they know that even if they succeed they must commit suicide for violating shogunate law. [Photos from road to top, and 'old' stone memorial at the bottom from the 1960s]