Tango Rise (Tokyo)
Name:
丹後坂 たんござか
Tango-zaka, Tango Rise
Location:
赤坂4丁目2番、4丁目5番の間
Between Akasaka 4-2 and 4-5
This article is part of the special feature Akasaka on the Rise. Check it out in my Live Maps Collection.
The official description: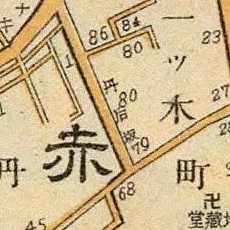 元禄初年(1688)に開かれたと推定される坂。その当時、東北側に米倉丹後守(西尾丹後守ともいう)の邸があった。
The street is estimated to have been created in inaugural year of the Genroku Era (1688). At the time, just to the north-east was the mansion of Yonekura Tango no Kami (also known as Nishio Tango no Kami).
Unofficial explanation: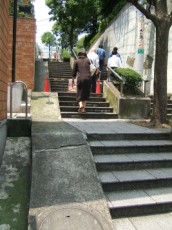 Tango was an area north of Kyoto. Tango no Kami was an appointment giving lordship over this domain. Tango District (丹後町, Tango-chou) in Kyoto is named after this same person's mansion there, so it seems he was very memorable. [Photo is from bottom of Tango Rise]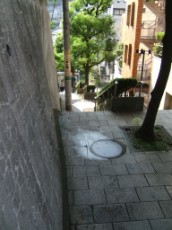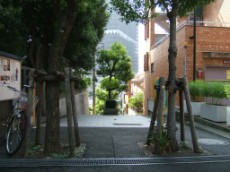 Reviewing Edo maps from the 1600s, very few streets or sections of streets have names, and almost all of those are rises or bridges. Most of the rises have the same map symbols that represent steps on modern maps. In Akasaka, those were Drug Mortar Rise, Kii Country Rise, and Southern Rise. Not every small road is depicted on these early maps, though. By the early 1900s there are stairs on rises such as Inari Rise and Tango Rise. It's interesting that in modern Akasaka, Tango Rise is only historic, named rise that still has stairs. [Photos from mid and top of Tango Rise]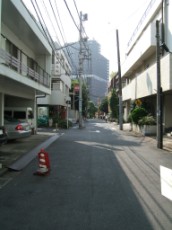 The view from the top of Tango Rise, like many places in Akasaka, is being drastically changed by skyscrapers. In this case it's Biz Tower, part of TBS's new development. The photo here is from a block away, approaching the top of Tango Rise from Cow Cry Rise to the north.