Under Sheriff Rise (Tokyo)
Name:
弾正坂 だんじょうざか
Danjyou-zaka, Sheriff Rise
Location:
赤坂4丁目9番、4丁目18番の間
Between Akasaka 4-9 and 4-18
This article is part of the special feature Akasaka on the Rise. Check it out in my Live Maps Collection.
The official description: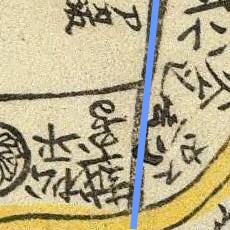 西側に吉井藩松平氏の屋敷があり、代々弾正大弼(だいひつ)に任じられることが多かったために名づけられた。
Named for the Domain of Yoshii branch of the Matsudaira family, whose Edo estate was adjacent. For several generations the family heads were appointed as Danjou Daihitsu, or Under Sheriff.
Unofficial explanation:
The top of the rise is right in front of Yamawaki Girls School (山脇学園, Yamawaki Gakuen), then heads down past the Akasaka Police Department, crosses Aoyama Boulevard (青山通り, Aoyama Doori) and finally meets up with Kurogu Rise. [Photo is from the top of the rise]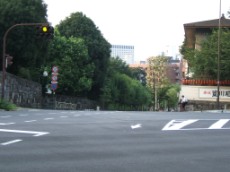 Half of the Matsudaira Yoshii estate was incorporated into the Akasaka Imperial Grounds (赤坂御用地, Akasaka Goyouchi), and the other half was cut off by Aoyama Boulevard, and is now the Akasaka branch of the Minato Ward Office and the Akasaka Police Department. [Photo of Aoyama Boulevard looking north down the rise]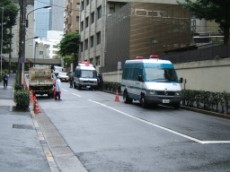 Maps from 1892 show the Akasaka Police Department here already, so there has been some 400 years of policing activities here. [Photo of police vans at the top of the rise]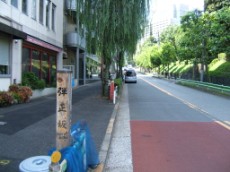 Domain of Yoshii is now Yoshii Town in Gunma Prefecture (群馬県吉井町, Gunma-ken Yoshii-machi). The Danjou-dai was the Imperial law enforcement department, and Daihitsu was second in command, an official appointment in the Edo government. [Photo of the bottom of the rise]
The appointment of Danjyou stretches back until at least the 900s. The classic reading for the name Danjyou Daihitsu is actually Tadasu-no-tsukasa-no-Ookisuke. Same kanji. Hopefully just hearing that has set your expectations appropriately low for ever hoping to learn Japanese.