Hackberry Rise (Tokyo)
Name:
榎坂 えのきざか
Enoki-zaka, Hackberry Rise
Location:
赤坂1丁目9番、10番の間
Between Akasaka 1-9 and 1-10
This article is part of the special feature Akasaka on the Rise. Check it out in my Live Maps Collection.
The official description: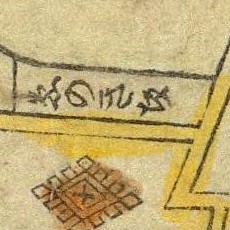 江戸時代より前の古街道の一里塚を示した大きな榎があったと伝えられる。
It is said that a large hackberry tree was once here, used as a distance marker on old highway that dated from before the Edo Period.
Unofficial explanation: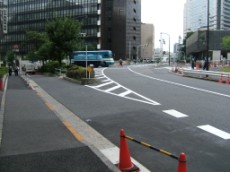 Hackberry Rise comes up from Roppongi Boulevard (六本木通り, Roppongi Doori), across from Fukuyoshi Rise. At its base is the beginning of New Hackberry Rise. At its top is South Spirit Rise and Tide View Rise (汐見坂, Shiomizaka).
Distance markers were placed every ri. Ri were originally based on a Chinese unit of measure. In Japan it was a distance of about four kilometers, or two and a half miles. However, it was used more practically as the distance a laden man could reasonably walk in an hour. It is referred to repeatedly in rural areas in Alan Booth's 1977 travelogue "The Roads to Sata".
There is an alternate explanation for the rise name. What now remains as "Outer Moat Boulevard" (外堀通り, Sotoboridoori) was a wide body of water known as Holding Pond (溜池, Tameike) in the early 1600s. It was built as the outer defense for Edo Castle by damming the Cherry River (桜川, Sakuragawa). The responsible mid-level official was so satisfied with his accomplishment that he planted hackberry trees on the dike as a sign to his descendants.
However, it's also true that the old Nakahara Highway (中原街道, Nakahara Kaidou; but it has many alternate names) ran past the top of the rise through the Edo period. The Nakahara Highway in Edo ran from Tiger Gate (虎ノ門, Toranomon) to what's currently Hiratsuka City in Kanagawa (神奈川県平塚市), where it connected with the Eastern Highway (東海道, Tokaido). This highway was very old, though, and predated even the Kamakura Era (1192). In general the Nakahara Highway ran along what's now Cherry Field Road (桜田通, Sakuradadoori) or National Highway 1. Because roads curved just before reaching the gates of Edo Castle, it actually went west towards Tiger Gate Hospital (虎ノ門病院, Toranomon Byouin) before heading south.
So with so much to say about this rise, you may be surprised that I only have the one photo. The rise passes right in front of the entrance to the United States Embassy. The Marines stay inside and leave the external guard duties to Japanese military, but I was still intimidated. In these times of oversensitivity about security, you have to be careful where you take photos. Especially if you think you're on an FBI watch list for highly ranked suspicious search terms. I love the Ultraman-styled SWAT trucks parked at the crest of rise. It's easy to imagine that the hackberry tree was planted right there.