Urban River Cycling (Tokyo)
A few months back, I biked the length of Zenpukuji River (善福寺川) in Tokyo, a detour on the way to work.  Here's some bike-related photos taken along the way.
No-car road in neighborhood around Seikei University (成蹊大) in the Kichijoji area of Musashino City, western Tokyo.
Carless road along west edge of Seikei University in Tokyo.
Park entrance, guarding against scooter bypass. Bikes and people can fit, more or less.  South entrance of Tateno Park (立野公園) in southern Nerima.
Gouged bollards at handlebar and pedal height. Wreckless kids or struggling elders?  Same spot in Tateno park.
Park entrance with another type of scooter stopper.  Over on the east side of Tateno Park.
"Old folks and kids at play. Please ride your bike with care in the park."  Next to that east entrance to Tateno Park, Nerima, Tokyo.
Bicycle Parking.  One of many in Zenpukuji Park (善福寺公園) in the northern Suginami, Tokyo.  No loops, no twists, no space wasted on immense locking stands.  Just space to stop your bike.  99% of bikes in Tokyo are equipped with a built in lock. 90% of bikes are never stolen.
Small lane along Zenpukuji River near its source.  Bikes and people only 7-9am.  Motorized vehicles allowed other times.  It's too narrow for even two bicycles to pass each other.
One way traffic sign on tiny lane, which bicycles can ignore.  Best guess: homes have entrances on the lane, and scooters have to use it for deliveries.
Two way road which you can freely bike and walk on.  Scooter and bikes parked willy-nilly.  Car parked into the street.  People don't freak out.  A river lies exposed, not jammed into some pipe to make lanes.  They're not needed.  A major passenger rail line passes overhead every minute or so.  People don't freak out.  The street is frequented by people, rather empty of cars.
Car stopping barriers at entrance to bike and person path.  This is down at the entrance to Zenpukuji River Greenbelt near Minami-Asagaya (南阿佐ヶ谷).  It's at the Itsukaichi Highway (五日市街道) bridge.
Mini pedestrian overpass at entrance to Suginami Kids Transportation Park (杉並児童交通公園). 
Loaner bikes lined up at Suginami Kids Transportation Park, where traffic safety is made fun.  Each has a different cartoon advertised.  Disney's princesses, Winnie the Pooh, Mickey Mouse, Anpan Man, Hello Kitty.  Hope there's some serious subsidizing going on here, like at Kidzania.
Traffic signal and mini train station at Suginami Transportation Park.  Parents can ride along in go-karts, or kids ride on their own.
Big kids can bike a figure-8 loop out on the main route of Zenpukuji River Park, across a couple of people and bike bridges.
One of Tokyo's first bike lanes.  Drivers are good about sharing the road, but this is a fast, narrow street that cyclists can't avoid.  This is on Honan Avenue heading into West Shinjuku.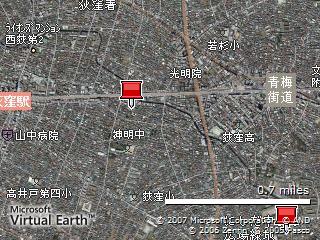 See the route in Live Maps.  Scroll around a bit, zoom in on the points.