Enshrined Streets (Tokyo)
Worship, the street, and kids.
A few years back I talked about Temples and Streets in Utsunomiya, Japan. Really I was talking about shrines, not temples. Shrines go to Shinto, temples go to Buddhism.
Here's another look at the intersection of streets and shrines, and some commentary on kids thrown in for good measure.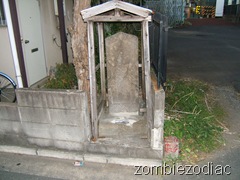 This is a michi-shirube (道しるべ), which my dictionary calls a "signpost" or "guide". Before looking it up, I'd settled on "road guardian." These tiny shrines not only mark the road, but also are a great place to ask the powers that be to keep you on the right track. I get lost all the time, so I need to get right with them.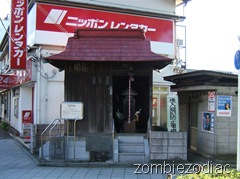 This shrine is a local monument, a relic of an older era. Directly behind it, and dominating its presence, is a branch of Nippon Rent-a-car. They get in their back door by cutting between shrine buildings.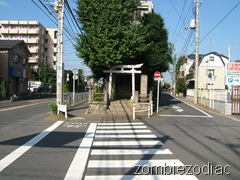 This shrine straddles the gap in a fork in the road. It's gorgeous, really, brilliantly capturing the true beauty of a shrine. A tall, ancient tree envelopes the shrine grounds, casting an impenetrably dark shadow over its resident. The gate offers the deity a clear view out to the world it oversees.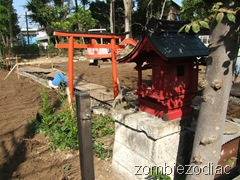 This tiny shrine sits in the now-corner of a residential lot. They've carved off a piece for a parking lot. Probably this was once part of a small farm parcel.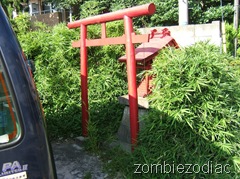 This shrine sits, coincidentally, in the corner of a parking lot. The van was being warmed up, spewing exaust over the sidewalk that wafted back over the shrine. That dude was asking for trouble.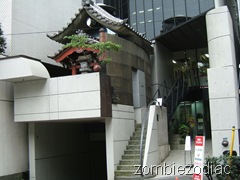 This shrine is truly amazing. It belongs in the short review of mixed use buildings I wrote last year. It is located at the base of an office building, accessed up a flight of stairs from the courtyard. A modernist, steel screen shields its resident from the prying eyes of office workers. Best of all, it is placed right above the entrance to the building's parking garage!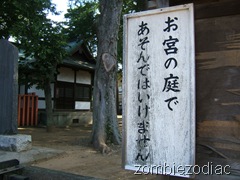 Not so long ago, streets were kid space. Likewise, shrine grounds have always served the commons as park space, a place to view cherry blossoms, watch leaves change color, and for kids to play.
This shrine is ringed in high-contrast signs, "You musn't play in the shrine grounds." How distaseful.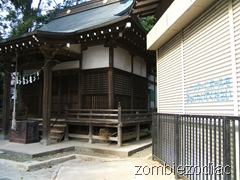 Following the same ill-logic, this shrine has a sign painted on the maintenance shed, "Don't bounce balls off of door." There are also spooky signs for kids to beware of kidnapping outside.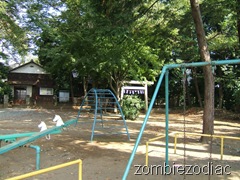 This shrine is on the southwest corner of Chofu's Jindai Temple. The shrine grounds are packed with playground toys. This is the way it's supposed to work.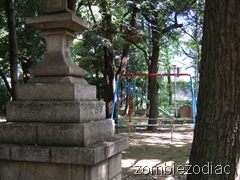 At Hikawa Shrine in Akasaka, the city has taken over the playground from the shrine for management purposes, and operates it as a tiny children's park.
What a great compromise.
I think I'm supposed to make an analogy here to skate parks keeping kids off the street. But when did the street become analogous to homelessness and crime?