Vending Machines 4: Mountain Climbing (Tokyo)
A wide selection of vending machines can be found up and down Mount Takao, west of Tokyo.
Among the most famous Japan lore as the vending machines found on Mount Fuji, loaded by old guys humping bottles up the mountain. Mount Takao is more amusement park than alpine nosebleed, but there are great vending machines to go with the clientele of families and elderly.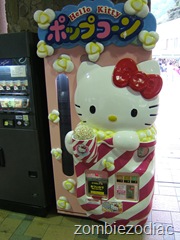 In the waiting room at the base of the Cable Car is this Hello Kitty popcorn machine. Right next to it is a cup coffee vending machine for dad.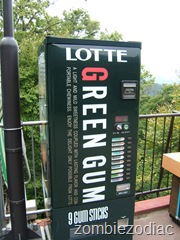 The cable car track is a crazy quarter-pipe, with max incline of more than 30%. Up at the top station, you can get some gum to help pop your ears. (note to self: no need to photo the Green Gum machine in Shinjuku now!)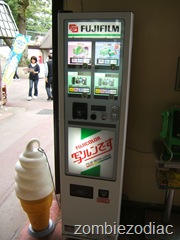 Around the corner in the tourist shop is this film and instant camera vending machine. This is a relic! Maybe some of the hordes of elderly hikers still use chemical film.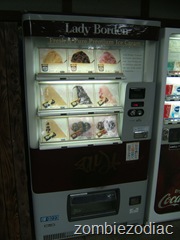 This ice cream machine is just outside of the Takao Monkey Park. At least one more of the same type is located down in the shopping district at Takaosan-Guchi Station. This is Lady Borden, a brand of confectionery giant Lotte, from Korea. In my ranking of snack food companies, Lotte is at best number four behind Morinaga, Meiji, and Bourbon.
They've got a catchy tag line, though: "Lady Borden Premium Ice Cream. Just choose your favorite one and its delicious taste will take you to the world of happiness. . . ."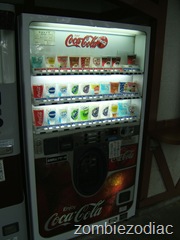 Next to the ice cream machine is a cup vending machine for soft drinks.
Up in the top left is the vending machine license. The police department requested to have every license include the address that the vending machine is located at. Not only does this stop people from putting machines in illegal locations, it also serves a much more practical purpose. When people call 119 (police emergency number in Japan), the operator asks them to find the nearest vending machine and read the address. It's a very reliable way of getting the caller to accurately give their current location.
On this machine it just says "Hachioji, Tokyo." not very helpful. you'd think they'd include information about which trail it's on or something more useful.
Check out some other posts on vending machines: sundry, beverages, or rarities.