Maps of Routes (Tokyo)
There are maps all over Tokyo, of different types.  Here are maps of routes and paths.  For more, check out my previous entry, Maps of Neighborhoods.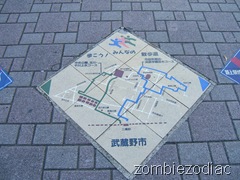 Musashino City in western Tokyo encourages walking by laying maps out on the sidewalk with interesting routes.  This map is just outside the north entrance of Mitaka Station, and itentifies two courses, Aqueduct and City Hall. 
The aqueduct course follows a dirt path along Tama River Aqueduct, then up the pedestrian promenade of Green Park to Musashino Central Park.  The promenade was formerly a small gauge rail bed, and Central Park was a fighter plane park factory in WWII and then a baseball stadium.  The course loops back past the water resevoir to the station.
The City Hall course loops out past municipal landmarks: the cultural hall, community gym, and City Hall.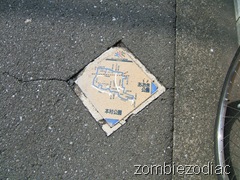 Other, much smaller tile maps are scattered around Musashino City for wayfinding. 
On this one, the arrows on the corners point to nearby parks. 
In the top left is a "you are here" marker.  We're on a walking route that starts at Musashi-Sakai Station.  The route drops onto a couple of dirt pedestrian promenades and passes fifteen parks.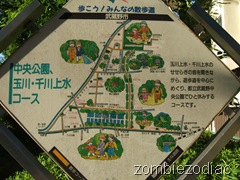 This sign found on Mushino City's aqueduct walking course is shaped like the tiles and provides more details of the route.  The images of frolicking children, strolling couples, and bountiful green are the real deal, and not just wishful thinking.
The caption on the right says "On this course you will listen to the babbling brooks of Tama River Aqueduct and Sen River Aqueduct, explore pedestrian promenades, and take break in the prefectural Musashino Central Park."  On the top the title exclaims "Take a walk!  Everyone's promenade"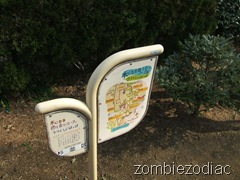 Found in southern Suginami, this map has a punned title that I'll translate as "Beautiful Leaves: A path of tree-mendous, fateful encounters." 
On the left side, text describes the Korean Fir which stands behind the sign.  Along the walking course there are six more spots with tree descriptions.  In addition, there are about twenty spots marked with memorable, though commonplace trees.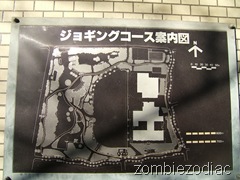 Found in Suginami City's Silk Forest Park, this simple, steel map plots two jogging courses through the park.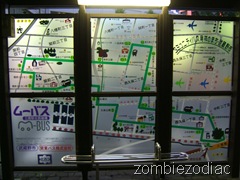 This map is on a bus shelter located just outside of the north exit of Mitaka Station.  Most bus lines in Tokyo are privately owned, but recently cities have launched community buses using small vehicles and doing short loops on poorly served routes between stations and public facilities.  This stop is for one of those, Musashino City's "Mu Bus".  The map makes it clear where the bus goes, and where to get off for your destination.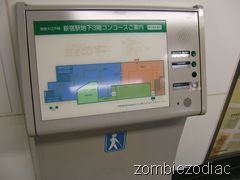 At an entrance to Toei's Shinjuku Station, this map is for visually impaired commuters.  The top right button gives a spoken description of how to get to ticket dispensers and turnstiles.  The second does the same for exit A1.  A third button is unlabeled and apparently does nothing. 
The fourth button is labeled "Intercom to Station Attendant."  However, the fourth button is taped over with a sticker that says "call button."  It looks like the maintenance people missed the whole point of the braille and voice map.
The map itself is quite functional, with routes mapped out where the yellow tiles are laid.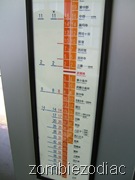 Another route map in a station, this is for the JR Chuo Line.
Growing out in either direction are the times from this station.  Spread out to the left are a variety of express trains.  Since the expresses don't actually stop at this station, they don't give any benefit to riders.  The farthest posted stop, Ootsuki, is only a minute faster (72 vs. 73) on an express.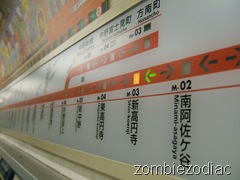 This route map is inside a Tokyo Metro Marunouchi Line train.  It's by far my favorite in-train route map. 
Keio trains have a baffling paper map with about 20 possible branches on it.  JR trains vary by age - newer ones have displays that rotate a variety of route and station information.
The Marunouchi map elegantly shows a light for the current station and direction, and a simple linear representation of a near-looped train line.  If you wake up in a panic it provides an immediate understanding of where you are, with no thought required. 
They can get away with it because cars are never used on other Metro lines, and the Marunouchi does not continue on other companies' rails.