Walk to Work 4 (Tokyo)
Higashi Koenji to Shinjuku, the mostly-residential route
Two days after Walk to Work 3, I set off on a residential route to work. Unlike Oume Kaido,which takes a direct, gentle arc into central Shinjuku, the residential route was complex. I planned it out the night before, and was sure to note which turns were absolutely necessary to avoid long detours and dead end neighborhoods.
Hazier today. 8:30.
Side road between apartment buildings.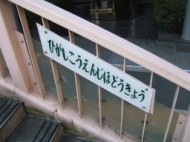 Recently I've noticed that even the ugliest, unmemorable pedestrian bridges I pass by in Tokyo have names and signs. It would make sense that because they are local landmarks they would all have names like major intersections do. Wonder if it's true. Oh, this is "Higashi Koenji Hodoukyou" (Higashi Koenji Pedestrian Bridge)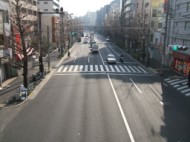 View from the Higashi Koenji Pedestrian Bridge. The bridge is placed between two intersections with relatively long lights. 8:35.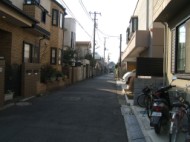 Residential street. Homeowners put every inch of ground along the street to use. If it's not needed for doorway or bicycle parking, there is a planter box or small garden. At the end of the street is the temple in the next picture.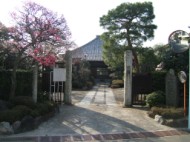 Jyousenji (Jyousen Temple). This temple was founded in 1603 in Chiyouda-ku, central old Edo. In 1908 it was moved to its present location in more appropriate rural landscape. 8:40.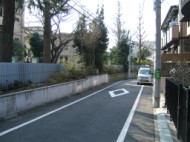 Small street along a girls' high school. Unlike the purely residential street, this one has the vehicle travel lane painted to guide traffic. As you can see with the car parked up ahead, it definitely doesn't demark sacred ground like in the US. It's a guide. 8:45.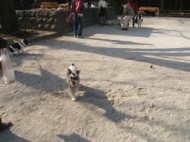 Unlike the much larger Silk Forest Park 15 minutes away, dogs seem welcome in Wada Central Park. This morning they ran off leash, playing and barking with their owners shouting to orchestrate them.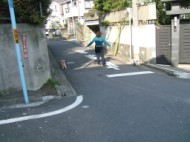 Very little traffic in this purely residential area makes it relatively safe for these two dogs to take up the whole road. 8:50.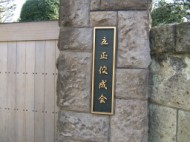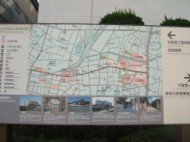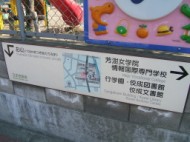 The Rissho Kosei Buddhist sect was founded in core of Wada. A presentation of its structures is certainly a future topic for my site. Here I'll just present a few signs: a small directional sign; a large map of all of their facilities; and a sign on Oyama, one of their historic sites. 8:55.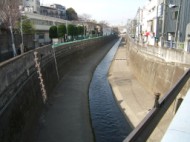 The Kanda River canal snakes between buildings through Tokyo. I intended to walk along it after leaving residential streets. You can see that bike/ped paths run along both sides of the canal, which is common in Tokyo. Unfortunately they end here for a kilometer or so and I'm going the opposite way. 9:00.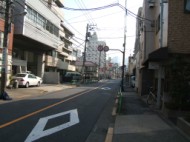 Forced to improvise, I unhappily walk along an arterial with surprisingly light traffic.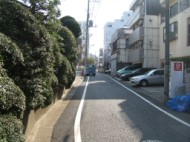 I jump over a street. No sidewalks, but much more comfortable. Trees, less traffic, plus I'm in control as a pedestrian. 9:05.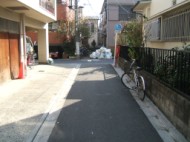 I decide to press my luck and try jumping another road over. It's even smaller, and comes to an end after a couple of minutes.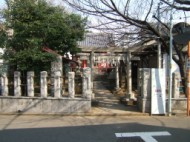 Turning at the T heads me right into this shrine's entrance though, home to the trees in the earlier photograph. 9:10.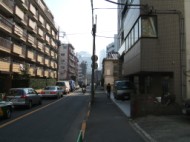 I give up and head back to the arterial. Traffic is picking up as we get closer to Shinjuku and a major intersection. 9:15.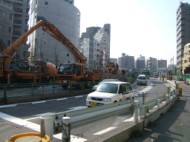 Major construction at the intersection with Yamate Avenue. It's the same construction that caused the accident I saw at Nakano sakaue, and apparently goes for kilometers.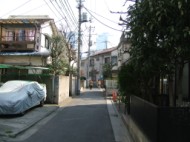 I get back on my planned route. As I cross into Shinjuku, the neighborhood gets old and claustrophobic. This definitely doesn't fit the image of West Shinjuku.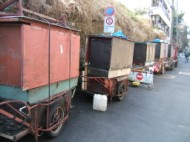 Night stall carts are parked along this road. Presumably the owners pull them to the main streets of West Shinjuku to sell a quick cheap meal or snack to office workers headed to a station home. 9:20.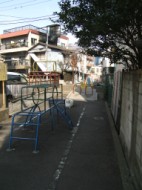 Forget pocket parks, there's no space. This is a road, apparently built on top of a capped creek. Barriers only allow pedestrians to enter. Along several blocks jungle gyms and other play toys are wedged into the middle of the walkway. This is a "path park".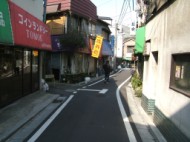 The business street at the center of the neighborhood. I'd rather call it a shop path.
I emerge on Jyuunisou Avenue, with the Shinjuku Central Park entrance across the intersection. The contrast is jarring. 9:25.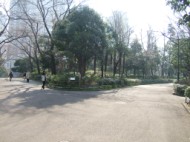 Before, a path with a park. Now, a park with a path. In fact, Shinjuku Central Park is mostly used as pathways.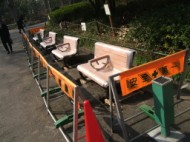 New benches being installed. 9:30.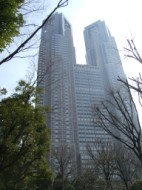 Tochou, the Tokyo metropolitan government building. A little-known fact is that this is tower number one.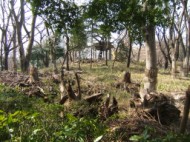 Stumps in one of the open areas of the park.
Plum tree in bloom in front of tower number two of Tochou.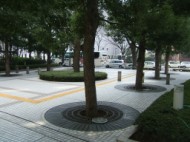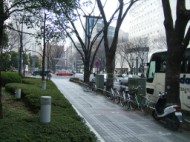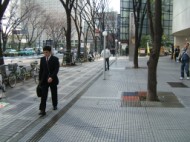 Central Park was surprisingly brown, even in early spring. The semi-private space surrounding adjacent skyscrapers is a nice compliment. 9:35.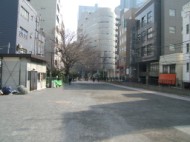 Confusingly empty land. I think this is a park? 9:40.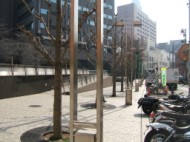 Backstreet in West Shinjuku. The sidewalk is twice the size of the street. Heck, the motorcycle parking strip is almost as big as the usable roadway.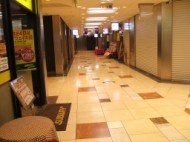 Many skyscraper lobbies and basements make good shortcuts, and provide recon for lunch venues and watering holes. I'm pretty much there. 9:45.