West Suburbs (Tokyo)
Snippets from Chofu, Kichijoji, Shimokitazawa, and Ebisu.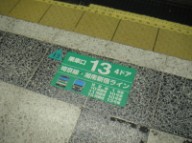 Platform marker in JR Shinjuku station. It indicates that this is entry number 13, and that the Saikyo and Shounan-Shinjuku lines stop at this platform. At the bottom it says this is car #1 for the Saikyo line, car #10 in a 10- or 11-car train, or car #13 in a 15-car train. That's important to know if you are getting on a train with assigned seating, or if you're waiting for a train shorter than the entire length of the platform.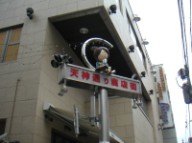 Apparently Mizuki Shigeru, the manga writer of Gegege no Kitaro - a famous manga and anime from the 80s - lives in Chofu, in western Tokyo. They have this "Gegege no Kitaro Shop Lane." (He was born in Gifu, where they have a couple hundred statues! You can sponsor one for a mear $10,000)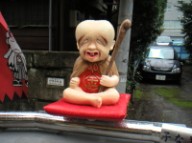 Characters from the show line the lane, about 6 statues. This guy looked kind of sweaty in the aftermath of a morning rain.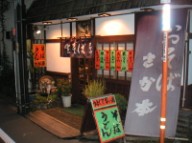 A soba and udon noodle restaurant in Chofu. Recently I've been interested in the exterior shop designs that let you know this is Japan. This is very typical.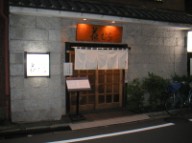 Here's a classy restaurant with a block fa硤e, lit sign, sliding doors, exterior menu, and short curtains. Again, common design elements. Other items that make it stand out as Japanese: burnt wood sign, short tiled roof, curb at edge of building with steel riser for entrance, narrow planting strip, and bicycle.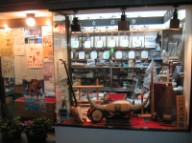 A traditional musical instrument shop in Chofu.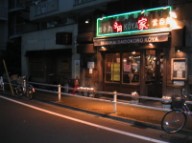 Use of neon is also rampant on Japanese signs, as with this Chinese restaurant. In this case I really want to point out the railing, though. Many pedestrian advocates in the US dislike the idea of blocking pedestrian movements in order to free up traffic. I agree with them. However this railing, which is common across urban Japan, is only knee-high. It's high enough to lock a bike to, high enough to give you some confidence when walking on the sidewalk and make you feel comfortable, high enough to stop a car from parking on the small sidewalk, but low enough that you can step over it and cross the 1.5 lane road. I actually like it when these railings have tiny bushes next to them, though. I think it looks nice and adds needed green (gray when covered with dust and smog) to urban Japan.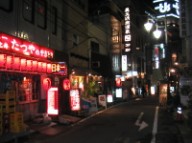 A nice streetscape in Ebisu at night.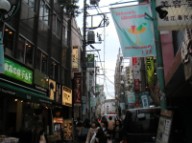 This trip reminded me how much I love western Tokyo. Here's a shot of a commercial street in Shimokitazawa near the station. Shimokita is all like this near the station.

For some reason there's a misconception that rail in Tokyo is all above or below grade. Not true! Here, the Inokashira line runs mostly at grade between Kichijoji and Shibuya. This is the north end of Shimokitazawa station. Interestingly, though I've heard of occasional deaths, I've never heard clamor to raise or lower the crossings or stations.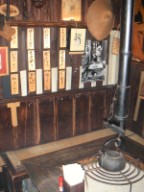 This is a tiny little barbecue shop in Kichijoji's Harmonica-yokocho. What a great area! This area has taken off over the last couple of years, and there were so many packed shops and great little restaurants. I was admittedly worried when we felt an earthquake while eating - the shop is made of highly flammable wood and paper, and the chef was cooking over an open gas flame - but no one else seemed concerned. Luckily the epicenter was far away.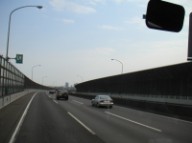 I don't want to sound like a broken record, but this is what Seattle drivers should expect in the future. This is from a bus on the freeway back to Narita. Sound walls, baby! It's the law, they must mitigate impact of sound on altered freeways in Washington state now. Currently the walls only block moderate density suburban housing. Soon there will be little or no clear view on the urban freeways either, after I-90, SR-520, SR-99, and I-5 are upgraded, replaced, or expanded in the next decade or two. Woo-hoo!