New Hackberry Rise (Tokyo)
Name:
新榎坂 しんえのきざか
Shin'enoki-zaka, New Hackberry Rise
Location:
赤坂1丁目7番、11番の間 
Between Akasaka 1-7 and 1-11
This article is part of the special feature Akasaka on the Rise. Check it out in my Live Maps Collection.

The official description: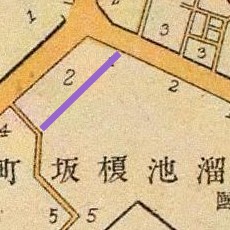 2004年にできた。
It was built in 2004.
Unofficial explanation: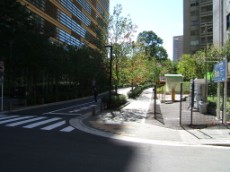 New Hackberry Rise begins on Hackberry Rise, just south of Roppongi Avenue (六本木通り, Roppongi Doori). It follows a gentle curve then meets with Cherry Rise. [Photo is from bottom of rise]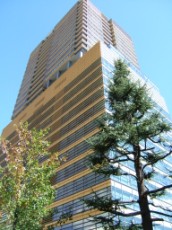 Created along with Akasaka Intercity (赤坂インターシティ) skyscraper in 2004. Intercity is the urban renewal brand name of Kouwa Development (興和不動産, Kouwa Fudousan), previously used on the massive project Shinagawa Intercity (品川インターシティ, Shinagawa Intaashiti) to the south of Shinagawa Station, in which they were the central partner.
Akasaka Intercity is office building to the 15th floor, and then (foreign) executive housing to the 28th, top floor. The 29th floor is a fitness center and sky lounge. The apartment space is labeled Homat Viscount (ハーマット・バイコウント, Haamatto Baicaunto) branded with the imprint Homat, which can be found on Kouwa's foreign-executive-targeted, high-end condominiums (マンション, manshon) throughout Akasaka, Roppongi (六本木), and Hiroo (広尾), Tokyo's most expensive neighborhoods.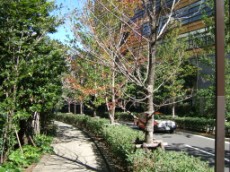 The newly opened New Hackberry Rise is very attractive and pleasant. It's a nice compliment to the roads leading up to Spain Rise (スペーン坂, supeenzaka), past Cherry Rise, Festival Drum Rise and Three Valley Rise. However, it didn't come cheap, and the continued focus on the ultra-high end for new developments in Tokyo is a bit disturbing. Advertising focuses on livability and convenience, but planning and execution occur with no sense of social responsibility or diversification of neighborhood residents. They might throw in a semi-public plaza or addition to a neighboring park, but low-income, new-graduate or even family-oriented housing is left for someone to hopefully solve in the suburbs. [Photo is from about midway up the gently sloped street]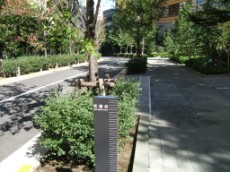 Revenge is sweet, though, and it's heartening to watch Roppongi Hills – the best of the best for the last few years – tumble into the toilet with the reputation of their infamous headline office renter Livedoor. [Photo is from the top of the rise, looking back from the intersection with Cherry Rise]