More Nude Statues (Tokyo)
The second batch of confrontationally nude statues in Suginami Ward.
For more of the same, check out my previous entry Nude Statues.
After posting my first batch of nude statues, I found the amazing site Tokyo Public Art Guide, one person's attempt to catalog every piece of public art in Tokyo, including name, year, and artist. This is more than a life's work. It will literally be a never-ending quest. Hopefully he doesn't treat it that way, and it's just a "when I see one" hobby. It that sense it's a good incentive to get out of the house, and accept a friend's invitation to go to some crazy spot you've never been to. Most parks and business districts have at least one statue, so he's set. For me, dog poo signs make me turn down the unknown streets and visit third-rate neighborhoods with glee.
So I started with a few statues on the Art Guide, then I just kept my eyes open and spotted a few extra. Below you'll find the results. I know there are more, but I'll probably wait awhile before attempting to finish of my list of Suginami's nude statues.
One last comment before the photos. All of you that got here by querying a search engine for 'nude children' or 'nude photos' or whatever, I've got one thing to say to you: HA!!! I hope you're really annoyed when you discover there's nothing pornographic on this page. And I hope this "suck off" message translates well into French and Spanish, for all of you sick people in Europe running my nude pages through machine translators.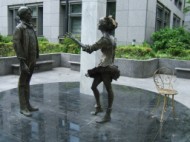 At the Suginami Ward office in Minami-Asagaya. Her skirt is blown up, and yet the wind does not ruffle their hair. So, some dynamic action must be occuring between the stoic man and the empty chair. Perhaps she spun out of the chair to dramatically greet him. Or there could be a vent fan blowing up at an angle like that Marilyn Monroe movie. On the other hand, it could all be an excuse for the artist to frustrate all of the hormonally challenged government workers that walk by.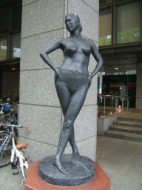 At the Suginami Ward office in Minami-Asagaya. Not alot needs to be said about this. You keep expecting her to utter something like "Welcome home!"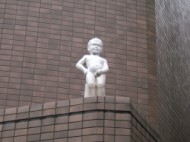 On a business street just south of Ome-kaido near Shin-Nakano station. Some prankster stuck this peeing boy statue up on the 2nd floor roof of an apartment building. Tokyo needs more building owners like this.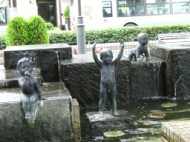 At the south entrance to Asagaya Station. Every once in a while the fountains shoot up, letting them play for a minute. Artists and public officials love cherub-like nude baby statues in Tokyo, they're everywhere.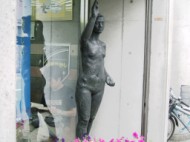 In the entrance to Watabe Riyoushitsu, north of Asagaya Station. I'm kicking myself, because I forgot to check to see if the hair dressers were dressed or not. This customer is either used to the nudity, or there's nothing to be seen. Nice to put a statue out there saying, "Come on in! No need for formality here!"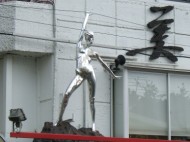 Near Saginomiya station, above a boutique. I want this statue. Plated in chrome tiles, this nude actually holds up a power line, somehow bridging the gap between art, fashion, science fiction, and bathrooms. My goodness! I need to file this one under "tiles" too, and dig it out when I begin my exploration of the great Inax-driven tile conspiracy in Japan.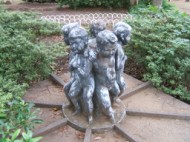 In Igusa Park. Five little cherubs or pixies or whatever link arms in the center of the park. Some of them have had their business removed, or perhaps there are male and female cherubs. At some point I should really open up the wikipedia and figure out the difference between a cherub, pixie, nymph, and all of those other mythical creatures. Strongly imprinted in my adolescent mind were Dungeons and Dragons Monster Manual illustrations of hot, nude chicks for pixies and nymphs, so at least in D&D terms I think these are cherubs.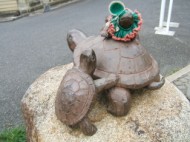 Momoen-gawa rokocho. Here's your bonus statue, a nude mother turtle and one nude baby turtle. The other is showing some decency.