This Dog's Due (Tokyo)
Reflections on dog signs.
This article is part of the special feature series Dog Doo Signs of Tokyo.
First, a quote from Philip K Dick to light your way. From the novel - soon to be a major motion picture - A Scanner Darkly.
----
"What do you smell?" Luckman asked. "A clue, man? Some engine smell that-"
"Dog shit," Arctor said. He could smell it, from within the engine area. Bending, he sniffed, smelled it distinctly and more strongly. Weird, he thought. Freaky and fucking weird. "Do you smell dog shit?" he asked Barris and Luckman.
"No," Luckman said, eyeing him. To Barris he said, "Were there any psychedelics in that dope?"
Barris, smiling, shook his head.
As he bent over the hot engine, smelling dog shit, Arctor knew to himself that it was an illusion; there was no dog-shit smell. But he still smelled it. And now he saw, smeared across the motorblock, especially down ow by the plugs, dark-brown stains, an ugly substance. Oil, he thought. Spilled oil, thrown oil: I may have a leaky head gasket. But he needed to reach down and touch to be sure, to fortify his rational conviction. His fingers met the sticky brown smears, and his figers leaped back. He had run his fingers into dog shit. There was a coating of dog shit all over the block, on the wires. Then he realized it was on the fire wall as well. Looking up, he saw it on the soundproofing underneath the hood. The stink overpowered him, and he shut his eyes, shuddering.
---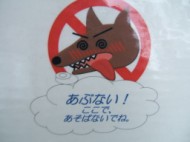 "Danger! Don't Play Here!", in the outdoor smoking area of an office building.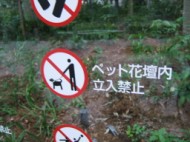 "No Pets in the Flower Beds", outside of an office building in Akasaka.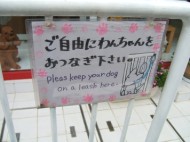 "Feel free to tie your dog's leash here", outside a pet store in Akasaka.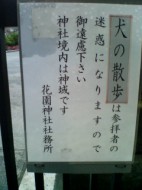 "Dog walking is bothersome to worshippers, so please show restraint. The shrine gardens are holy ground." At the entrance to a shrine in Shinjuku.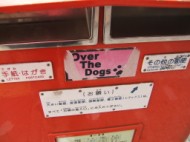 It's pink, it's a sticker, and it says "Over the Dogs," but I think this qualifies as graffiti. On a post office mailbox in Chofu.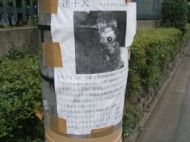 Sadly, a toy poodle has gone missing for a couple of months in Chofu.