Shark Bridge Rise (Tokyo)
Name:
鮫ヶ橋坂 さめがはしざか
Samegahashi-zaka, Shark Bridge Rise
Location:
元赤坂2丁目1番、千代田区の間
Between Moto Akasaka 2-1 and the border with Chiyoda Ward
This article is part of the special feature Akasaka on the Rise. Check it out in my Live Maps Collection.

The official description: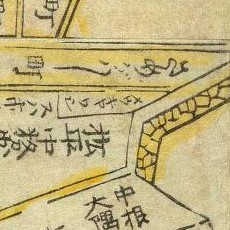 明治時代まで坂下に鮫河橋という橋があり、この辺を鮫河橋町と呼んでいたことからこの名が付いた。
Until the Meiji Era there was a bridge at the bottom of the rise named Shark Stream (Samekawa) Bridge, and the area became name as Shark Stream Bridge Town, which is the source of the rise's name.
Unofficial explanation: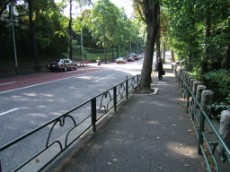 The top of the rise begins near Tokyo Metro Marunouchi Line (東京メトロ丸の内線) and JR Chuo Line (中央線, Chuuou Sen) Yotsuya Station (四ッ谷駅, Yotsuya Eki) at Wakaba East Park (若葉東公園, Wakaba Higashi Kouen). It heads down southeast along the west side of the Akasaka Detatched Palace (赤坂御用地, Akasaka Goyouchi), where it meets up with Anchin Rise. [Photo from top of rise]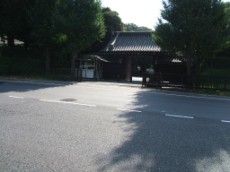 This hillside is also known as Shark Stream Rise (鮫河坂, Samakawazaka). The stream is now covered with a road, which forms the intersection at the bottom of both Anchin and Shark Bridge rises, at Shark Stream Bridge Gate (鮫河橋門, Samekawahashi Mon). Yet another alternate name is Kii Country Rise (紀伊国坂, Kinokuni-zaka), which would consider this a pair to the real Kii Country Rise on the east side of the estate. [Photo of gate at base]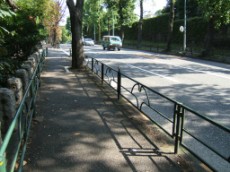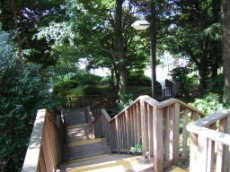 It may be unsettling to learn that a hundred years ago, Shark Stream Bridge Town (鮫河橋町, Samekawahashichou) was site of one of the three major slums in Tokyo. It lasted from the beginning of the Meiji Period in the 1870s until the beginning of the Showa Period in the 1920s. It was infamous as the "hidden Tokyo" or "dark side of Tokyo", and a serious thorn in the side of the nearby Imperial family. The former slum is now this relaxing streetrise, two large parks, a school campus, a highway and a train line. The name of the town is gone, and the stream is only remembered by the gate and the rise. [Photos of the view up from midway along the rise, and stairs leading down to South Old Town Park. (南元町公園, Minami Moto Machi Koen)]