Downtown Walk > Clock #7
Colman Dock Tower Clock

Directions: From Fairlook Antiques, head west under the Alaska Way Viduct to the other side of the street to the water side. Head three blocks north on Alaskan, and climb up the stairs or elevator to the second level of the ferry terminal on the outside facing the street. Ten minute walk.
This clock is a bit off of the rest of the walk, but it's definitely worth the trip. No other clock on the walk is displayed with such a detailed history, etched into its glass base. Within the base you can see the pendulum and a time capsule inserted in 2001 at the 50th anniversary of the Washington State Ferries.
Colman Dock (and Clock) are named after James Colman, an important man to Seattle's early transportation. The Colman Clock was originally installed in 1908 with a rebuilt Colman Dock for ferry traffic by his sons. Just a few years later, a ferry rammed the dock, severing the clock tower and setting it adrift. The clock was salvaged and installed on a new, taller tower. In 1936 the entire dock was replaced with something that could handle the unexpected need for automobile traffic, and the clock was removed and promptly lost. Amazingly, the clock was rediscovered forty years later in a warehouse amongst chicken coops. After ten years of loving restoration, it was installed inside the second-floor passenger waiting room in 1985. In 2004 it was moved outside next to a new elevator at the Marion Street overpass.
Oddly, the clock in 2010 has a sign saying that it's there for display purposes only. Apparenlty it's not working, and perhaps they are afraid of the strict clock laws in Seattle? I hope it's fixed soon.
Location:
Colman Dock
Upper Level
Landing at east end of building, next to Marion Street overpass and stairs and elevator to Alaskan Way.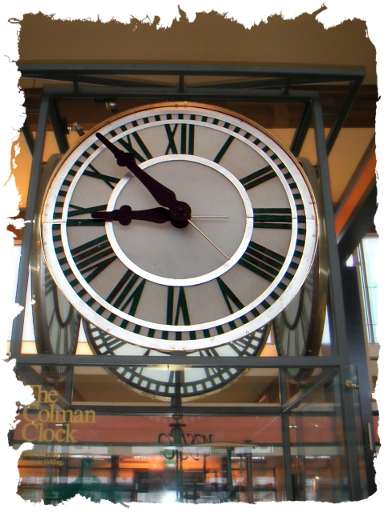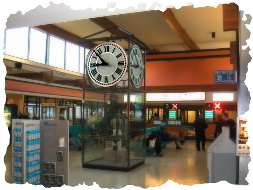 Previous was
Fairlook Antiques Sign Clock

Next is
Bank of California Facade Clock