Downtown Walk > Clock #15
Westlake Tunnel Clock

Directions: From Question Mark, cross to the north side of Pine. Enter the bus tunnel entrance at Nordstrom, heading down both sets of escalators to the mezzanine. When you reach the mezzanine, turn left. The walk is two minutes.
The clock is on the wall at the end of the walkway. This is the second clock stop in the bus tunnel, which was completed in 1990. Carol Valenta from Sound Transit provided me with this great information: "The large terra cotta clock in the Westlake Station was designed by architect Brent Carlson. The entire station was originally intended to be made of terra cotta to match the materials used on many of the buildings near the station. But as the time approached to begin putting on the finishes, there were problems with manufacturing the terra cotta panels. Architects did a quick redesign and found a supplier of travertine marble in New Mexico willing to supply the required amount of materials cut to specification to meet a very tight construction schedule."
Thomas D. Erb from Electric Time Company kindly informed me that they supplied the movement for the clock.
Location:
Westlake Bus Tunnel
Near the bottom of the steps from the Pine Street entrance at Nordstrom
Clock is on the wall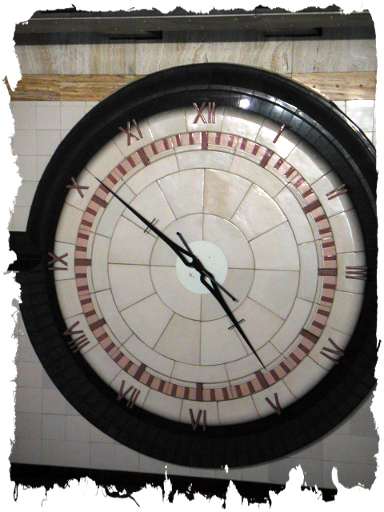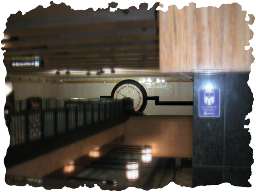 Previous was
Question Mark Clock

Next is
Tiffany & Co Facade Clock